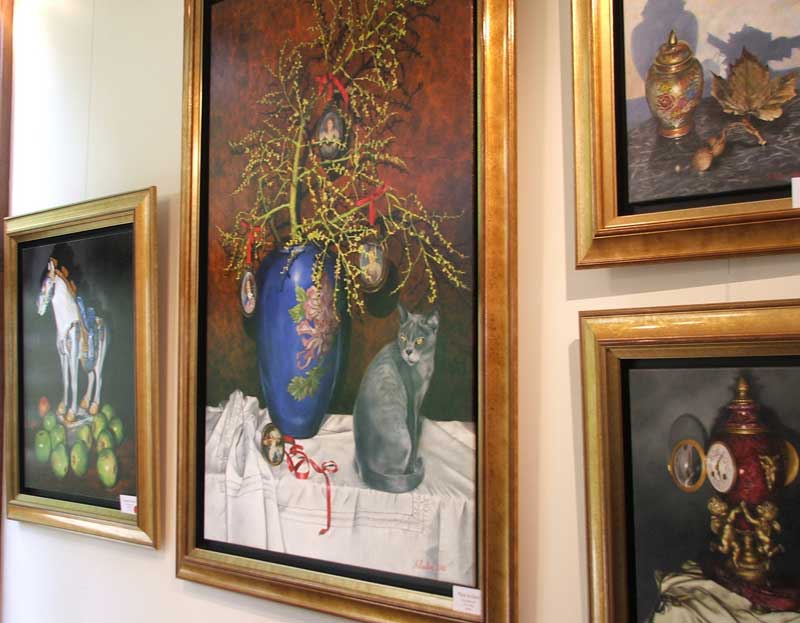 Art collectors and connoisseurs from France, Russia, Germany, Singapore, Hong Kong and Australia have been enthusiastically following and investing into Anna Rubin's realism paintings for almost 15 years.
On this page you'll see Anna's current realism paintings for sale, each one involving many months of consideration, preparation, sketching, painting and glazing.
There are 55 paintings in total created by Anna in her very own method based on Old Masters Technique.
Painting in oil on Belgium Linen, the finished masterpieces enhance the beauty of the client's home and lifestyle, complimenting the space with a strong statement of sophistication, refinement and aesthetics.
Paintings Currently Available For Purchase
The following featured artworks have been created in joyful anticipation of being presented to the right connoisseur who connects to the painting and it's story.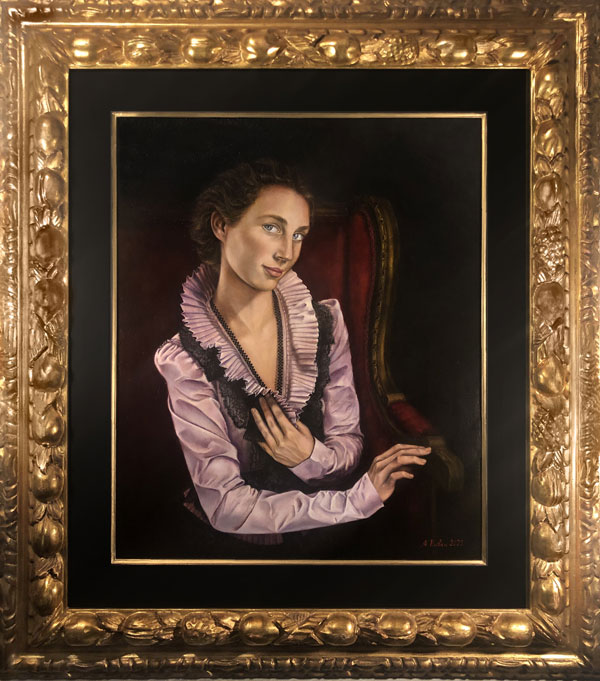 "Portrait of a Girl"
Size: 60cm x 50cm (without frame) / 91cm x 81cm (with frame)
Medium: Oil on Belgium Linen
Frame: Antique Gilded Carved Frame, 18th Century, Florence, Italy.

Inspiration for the Painting
I was inspired by a young girl, the daughter of my dear client. In this fleeting moment of youth, this painting captures a moment in time, never to be repeated.
I met Charlotte when she was 13 and remember her growing up and changing from a carefree, little girl to a lovely, intelligent, motivated and modest young lady.
The precious time of discovery, intellectual awareness and knowledge, curiosity and exploration guided by Charlotte's loving parents and grandparents was wonderful for me to observe and remember.
In Florence I felt like painting my memories and emotions from this observation. At the Florence Biennale this painting will be rather appropriate with the theme of the exhibition being "Eternal Femininity- Eternal Change".
I trust this painting will be adored and appreciated for its sensitivity to eternal change, innocence of youth, playfulness, gentle composition and detailed execution.
Symbolism in the Painting Explained
The painting "Portrait of a girl" symbolises the eternal beauty of a fleeting moment. The young girl is in that precious time of becoming a young lady.
The innocence and youthful energy of curiosity, playfulness and shyness are expressed in delicacy of her pose, eyes and gentle fingers touching the chair as if to still hold on to what's familiar yet be curious to what's the future holds.
The colour of the girl's gown is deliberately elaborate and reminds of complexity of growing up and realisations to be made along the way.
Shadow and light of the plissé of the collar hint the up and down dynamics of any development and the ancient jet adornment means that this is the way it always has been and will be for humans.
The royal purple silk is a tribute to Florence the beauty of which inspired the Artist to create a complete new, challenging art of depicting emotion as well as positive values, important, eternal and essential for the future: transparency and purity of intentions, beauty, sensitivity, humbleness and strength, deep understanding of humanity and fearlessness for obscurity.
A poem dedicated to the painting "Portrait of a Girl"…

A hint of mischief
Through those piercing eyes
A story so deep
Behind the ruffled collar and her delicate hands
She may be a woman
But the child within her remains alive
Price: US$21,000 / €18000  (SOLD, March 2021. To be displayed at Florence Biennale, 23-30 Oct, 2021)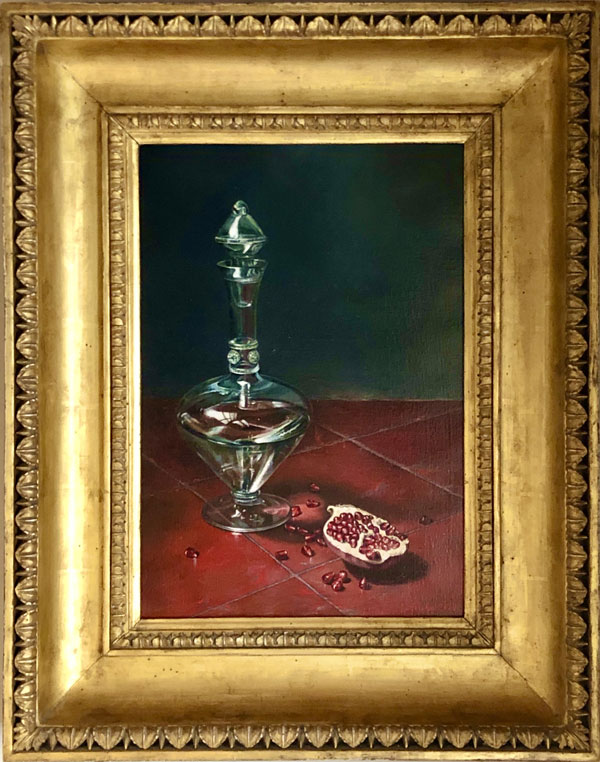 "Fiorentina Rossa"
Size: 50cm x 35cm (without frame) / 62cm x 47cm (with frame)
Medium: Oil on Belgium Linen
Frame: Large hand carved and gilded timber frame 16th Century, Florence, Italy.

Inspiration for the Painting
This Dutch School inspired modern Still Life is executed with endless love and appreciation for history, classical beauty, aesthetical asceticism and the Old Masters art.
Symbolism in the Painting Explained
The antique Dutch carafe (16th century) symbolises the eternal presence of timeless beauty and inspiration. I imagine how many people lovingly and carefully used this filigree vessel to drink wine or maybe to compose exquisite still life paintings. It reminds me of the glass objects in Van Dyck's paintings.
On my travels I always look for interesting, unique objects of art and beauty.
The time I visited Holland, many years ago this antique carafe was my most precious find and I knew I will use it when the right moment comes. It sure came when my world-wanderings brought me from Australia to Florence, Italy, back to my European roots …
The studio where I work is in the oldest Palazzo in Oltrarno, Florence, in the glorious Palazzo Ridolfi. Genius Brunelleschi worked on the Duomo here, in the next room from my studio…If only these walls and floors could speak…The antique objects of beauty certainly are in the right place here.
They continue telling and living their story in my painting surrounded by their contemporaries but in the new age of 21st century.
So I put my precious carafe on the precious Fiorenino Rosso floor-tiles of the precious Palazzo Ridolfi and enjoyed the ripe pomegranate to uphold the memory of greatness and to take in peacefully the awareness of time and glory.
Miraculously, a magnificent antique frame found my painting in Florence.
Carved by hand, beautifully gilded and perfect in size it has waited for a masterpiece to decorate from 16th century. And here they are, finally united to please, enchant and leave their the fabulous legacy of their proud owner "Fiorentina Rossa".
Price On Application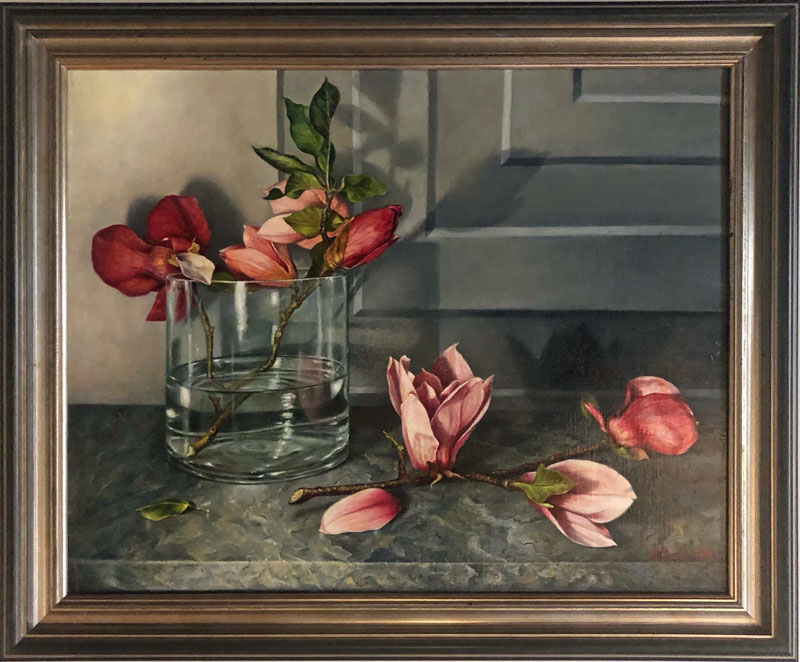 "La Magnolia Fiorentina"
Size: 25cm x 35cm
Medium: Oil on Belgium Linen
Frame: Italian gilded timber outer frame with gilded inner runner

Inspiration for the Painting
The inspiration for this artwork is my everlasting fascination for Magnolia. It fills the glorious gardens of Florence with its presence and gentle scent.
I feel a strong intuitive, emotional and symbolic connection to this majestic, perfectly shaped blossom …
It is selfless… Magnolia appeared before bees did and is said to have evolved to inspire beetles to do their work – pollinate the trees…
It is compassionate… Magnolia flowers feed the beetles with large quantities of pollen in Spring. In Autumn the birds come to relish Magnolia's red fruit with its delicious seeds, their favourite food…
It is strong and robust…Magnolia can be evergreen and if it decides not to be, it gives the glorious beauty of its flowers before spreading the green leaves to consume the energy of spring and sunlight…
It is elegant, feminine and sexual… Magnolia flowers are protogynous, which means that the flowers first open with the female parts of the flower, receptive, then close, and reopen with the male parts (stamens) ready to shed pollen.
This evolutionary adaptation increases the likelihood of cross-pollination rather than self-pollination, thus widening the gene pool.
Symbolism in the Painting Explained
Magnolia flowers meaning is attached with the symbols of nobility, perseverance, and love of nature.
Soft and subtle in colour yet strong in appearance, the flower is representative of the beauty encompassing femininity and gentleness. It is a perfect gift to a woman as an appreciation of her beauty.
It is loved and adored… Magnolia has been naturalised to almost all continents in the world because of their beauty.
An ancient genus, flowering tree beautifies elegant gardens of east and Southeast Asia, eastern North, South and Central America, the West Indies and Central Europe.
The life expectancy varies among magnolia species. Many have been known to survive for 100 years or longer.
Price On Application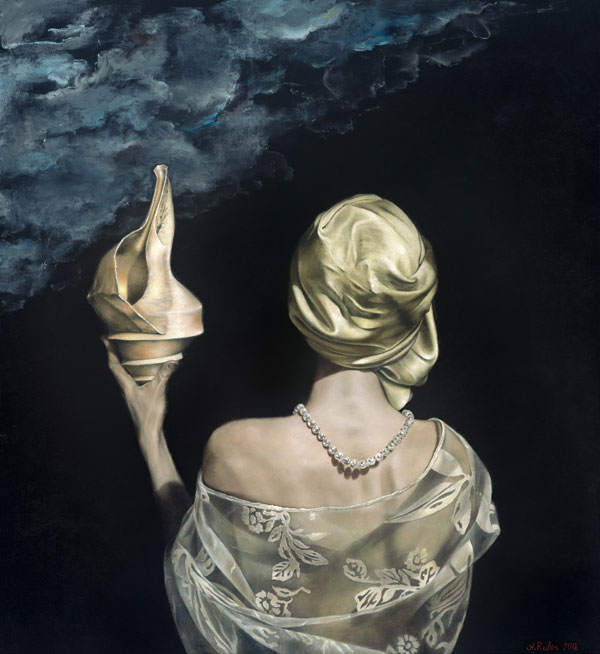 "ALLER DE L'AVANT III"
Size: 85cm x 75cm
Medium: Oil on Belgium Linen
Frame: Italian gilded timber outer frame with gilded inner runner

Inspiration for the Painting
The series "Aller de l'Avant" (in English "Moving Forward" is inspired by manyfold of ways to move forward and evolve in a life journey.
Some things are best left behind, but some must be taken into the future. The selection of both is very individual and strongly connected to the personal story of every individual.
Anna Rubin has created the three figurative realism artworks, using two female and one male models to tell their personal stories in her own interpretation.
While applying her signature old master's technique Anna used her knowledge of Caravaggio's light-darkness principal.
The objects in this artwork are disappearing into the darkness creating the 3D effect without shadows in the background.
The lightest lights – focal points of this artwork are shining through as the first layer of these has been highlighted by gold-leaf application.
That creates the illusion of the objects mysteriously descending into the depth of the painting.
Furthermore, Anna's still-life painting had to rest for a while she took up the most complex and challenging task of painting human hands.
Anna decided to avoid to paint the face of the model in this artwork as the face expression would distract the viewer from feeling the sublimity, the emotion of understanding, an awareness of their own choices made in past; or of the future choices.
The idea of the famous psychologist Carl Jung inspired Anna to compose this artwork in such way, that the face expression of the figure stays undisclosed.
Carl Jung used the method of communicating without seeing each other faces after Sigmund Freud suggested it to avoid judgments of both communicating sides in a conversation on personal topics.
Symbolism in the Painting Explained
The sheerness of the draping means the transparency of the intentions to "move forward". It symbolises the honesty and openness of the person decided to make a positive change in life.
The olive green silk scarf covering the hair symbolises the modesty and innocence present. It is the opposite of boasting and showing off unnecessary in the new world where this individual is moving to.
The shell is the symbol of femininity, fulfilled female sexuality and desire. It is accentuated as one of the most important elements this particular person taking with her into the future.
The pearls signify the purity and femininity; the gentleness and sublimity of a truly strong, "moving forward" woman.
The blue – purple – green – yellow clouds imbued with red threads cover the left corner of the artwork; are receding towards the middle and disappear completely on the right side of the painting.
This element, although secondary, creates subconscious illusion of the movement in the otherwise still composition. It also symbolises the impermanence of any experience in being.
Price On Application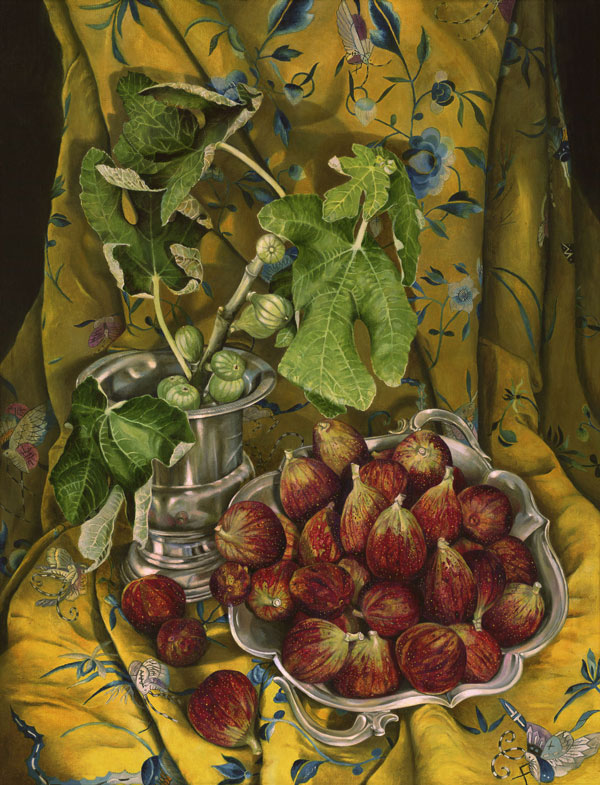 "LES OBJETS DE BEAUTE DE LA LONGEVITE"
Size: 68cm x 58cm
Medium: Oil on Belgium Linen
Frame: European gilded outer frame, China lacquer inner frame, gilded inner runner
Inspiration for the Painting
With this artwork from the series "Les Objets de Beauté" Anna Rubin celebrated 10 years of her successful artistic career in 2016.
A delightful event took place in Palazzo Versace where selected group of Anna Rubin realism art collectors from all over the world joined her for a special, exclusive event to reflect on a decade of Anna's artistic career and celebrate the beauty of life.
Anna Rubin has been following her heart and passion for creating fine art for ten years and some of her valued collectors were privileged to sharing their treasures with others in this very first Retrospective Exhibition of Anna Rubin realism art!
To mark this important anniversary Anna Rubin conceived the Alchemy of the two Golden Ages of Art –
16th century Renaissance mastery and 19th century Belle Époque opulence.
Anna was thrilled to present the result, a special series of art works including "Les Objets de Beauté de la Longevite" that embodies her inmost inspiration…The beauty!
Symbolism in the Painting Explained
The butterfly is a symbol of long life and signifies joy, warmth and longevity.
The fig fruit conveys the meaning that something wonderful is going to happen soon.
For this reason figs are placed on bridal beds and the wood of the fig tree was used to construct beds for children.
The illuminous yellow of the Chinese silk embroidered with blue and white moths and butterflies symbolises wealth and prosperity as well as a privileged status of the owner in society.
It is an antique robe Anna inherited from her late Grate Grandmother, who received it as a goodbye present from Shanghai Opera in early 20th century. She served there as a lead singer for some time after escaping revolutionary Russia.
This painting took over 5 months to accomplish. The glowing yellow shines like a ray of sun in the room wherever this art work is presented. The gold leaf on the first layer of this magnificent art work makes sure that effect will never fade.
The intricate details of the painting take the viewer on a discovery journey each and every time the viewer looks at it.
The reflections on the silver vase, the baby leaves of the fig branch and the fruit; some – bursting with ripeness, dark purple and some – needing a little passion to get there with light lilac skin.
This masterpiece is an endless entertainment and wonderful visual delight.
Price On Application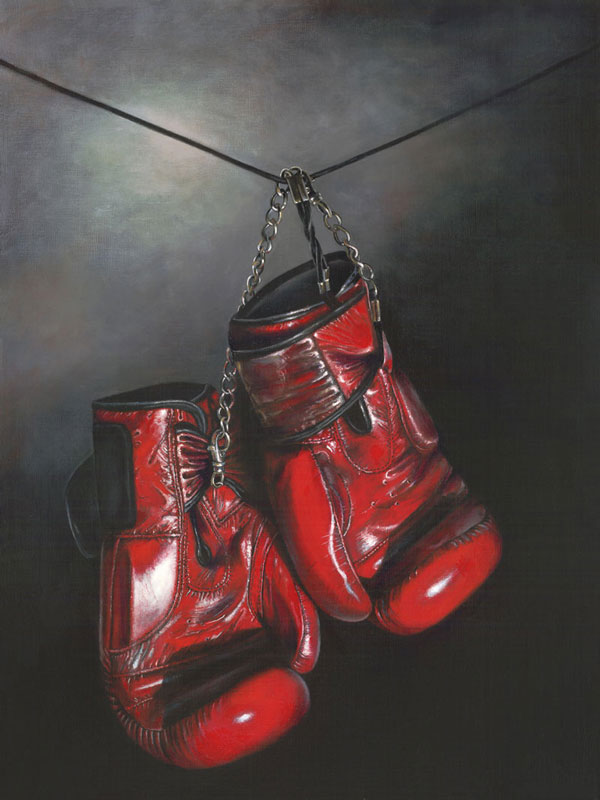 "PEACEFUL PASSION"
Size: 68cm x 58cm
Medium: Oil on Belgium Linen
Frame: Black timber outer frame with gilded inner runner
Inspiration for the Painting
An international artist Anna Rubin is using a 700 year old traditional technique of realism painting to make a statement on peaceful approach in modern life.
Drawing from personal experiences and realizations, Anna depicts her interpretation of how to deal with challenging situations.
This art work is not about motivation to giving up – it is about using passion peacefully to get what one wants.
Life's challenges can be approached with passion and with peace in mind. Being passionate doesn't mean being forthcoming and aggressive.
It doesn't mean fight; intimidating and going through walls…Passion can be and must be peaceful, strong and gentle. What is approached with peaceful passion is more pleasant and satisfying for all involved.
Symbolism in the Painting Explained
The bright, vivid red symbolizes the passion being present and in sight always, no matter what an individual is doing.
The position of hung-up boxing gloves in the painting's composition and the soft grey background with glimpses of violet, purple, blue and yellow symbolize calming environment needed for healthy, reasonable decision making; and aggression being needed put away to make space for peacefulness.
The little quirk about "Peaceful Passion" is that in Anna's second mother tongue (German), "boxing gloves" translates as "hand-shoes for boxing".
In addition of creating artworks to be valued by generations to come, Anna Rubin has infused a special meaning into each painting, which tells a story about a place of an individual in modern society and the era of major change.
Anna's realism is not just for the sake of aesthetics and beauty, but it has a strong intellectual foundation.
Some might wonder, why it that shoes as a symbol were chosen.
"Shoes are very much a reflection of how a person sees the world and how the person wants to be seen.
The quality of shoes varies from very poor and short lived to eminently expensive works of art to be inherited, collected and exhibited in museums.
It gives a fairly accurate description about the owner.
Price: SOLD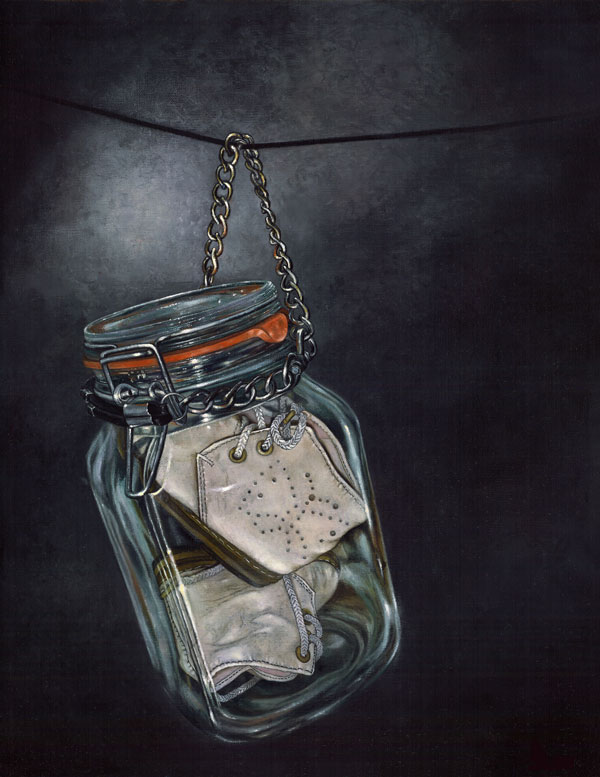 "ENFANT INTÉRIEUR"
Size: 53cm x 40cm
Medium: Oil on Belgium Linen
Frame: Large hand gilded outer, hand gilded small sloped inner on black and gold float frame
Inspiration for the painting
"Enfant Interieur" translated into English means "Inner-child".
When conceiving this artwork Anna trusted to inspire the future owner to cultivate the inner-child while improving and developing the personality.
This intricate artwork is an important symbol to remember to smile and have fun, trust and remain innocent, keep open-minded and adventurous as children;
To stay away from becoming increasingly cautious, suspicious of or fixed in certain believes, boring, repetitive and sad after no doubt many challenging experiences of "growing up".
Symbolism in the Painting Explained

The children's shoes are the symbol of the "Inner-child" present – not suppressed.
The shoes are the first baby shoes of Anna's daughter and are chosen because of a sweet, endearing emotional connection between the Artist and the artwork.
They are preserved, kept in safety from everyday responsibilities, thoughts and actions, but always in sight through the glass for anyone on a journey to finding the balance between being accountable, cold headed grownup and carefree, playful child.
The chain is there to symbolise how challenging it is sometimes to keep light hearted. To trust, that all is perfect and for the higher good.
Price On Application

Request to Purchase, or Arrange a Discussion or Appointment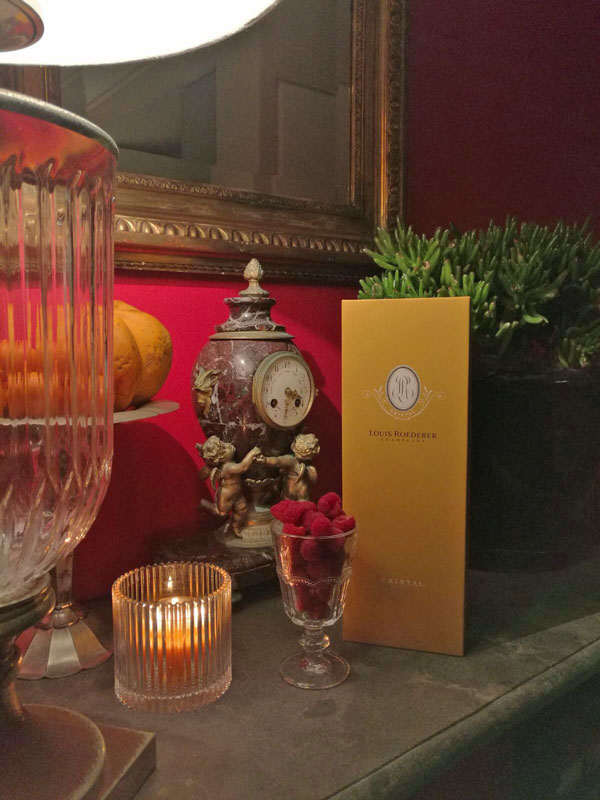 If you'd like to discuss a painting for sale or ask a specific question about one of more of the above paintings, please enter your details in the form below and Anna will be in touch with you shortly…