Art Sales History of Anna Rubin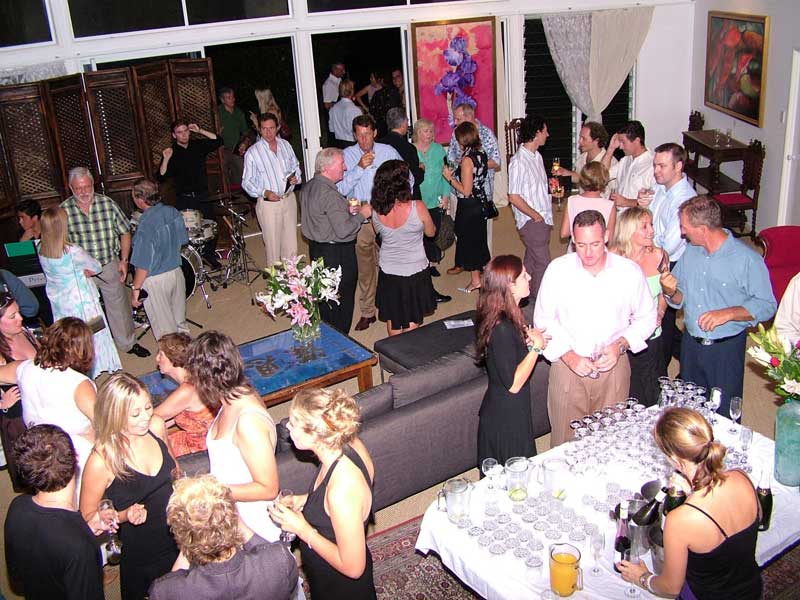 Anna Rubin's first solo exhibition, 2006
Thank you for your interest in Anna Rubin's art sales history.
This page offers art collectors, investors and those interested in buying fine art paintings, important statistics about Anna Rubin's success as a professional artist from 2005 to today.
Research valuable insights into the development and sale of Anna's art throughout her career including her success in both the primary and secondary art markets.
Section 1:
Anna's Journey and Art Sales Results Statistically Observed and Presented.
1.1. On the Primary Art Market
1.2. On the Secondary Art Market
Section 2:
A Selection of Anna's Artworks From 2005 – 2019 as an Illustration of Section 1; with Titles, Dimensions, Achieved Prices and Year of Sale.
Section 1:  Anna's Journey and Art Sales Results
Primary Art Market Results
Anna's first painting made available for purchase
The first painting by Anna Rubin is dated 2002.
In 2002 Anna accomplished her first painting titled "Iris". This painting could be described as decorative artwork.
Being sold successfully it gave Anna the confidence to continue painting, trying different styles and techniques.
Her lifelong passion was Dutch Masters realistic art which was painted using an extremely complex technique of painting in layers.
She started studying and applying the Old Masters Technique in 2004 and made her first sales to private collectors to test the waters of the Australian art market in 2005.
In that time period Anna painted her realism artworks with the typical size being 50cm x 30cm, in Still-Life genre with complex composition, dramatic shadows and dark background.
Her paintings were selling for AU$4,500 (US$3,300) in 2005.

In 2006 Anna Rubin launched her first solo art show offering the 50cm x 30cm size artworks in Still-Life genre for AU$7,700 (US$5,700).
Along with some earlier, larger artworks, all of Anna's paintings at this exhibition have been sold to a number of Queensland and Victorian art collectors.
The art community and the national media in Australia couldn't get enough of Anna's realism art.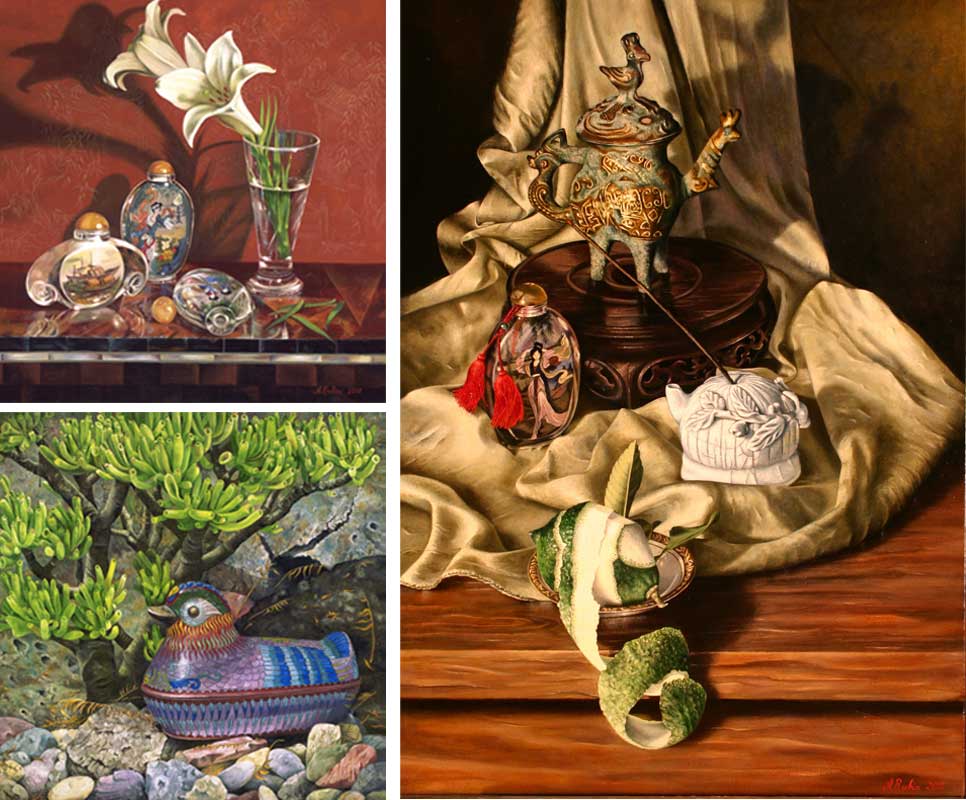 The second solo art show took place in 2008 in the prestigious art gallery, Richard Martin Art in Woollahra, Sydney.
This art show was offering the mentioned above size artworks for AU$9,900 (US$7,300).
Anna Rubin's collection "Les Objets d'Amour" included 11 realism artworks in Still-Life genre and was also successfully sold out at the preview day.
More than 500 art collectors from Australia and overseas attended the opening of Anna's solo exhibition.
The exhibition attracted significant attention from major art collectors, art galleries and media.
Read here about Anna's art by the Sydney Morning Herald.
These first two solo exhibitions represented two of the many pivotal points in Anna Rubin's artistic career with independently recorded results of solid growth in the value of her artwork.
From AU$4,500 (US$3,300) in 2005 to AU$7,700 (US$5,700) in 2006 and AU$9,900 (US$7,300) in 2008.
Public Art Exhibitions 2006 – 2019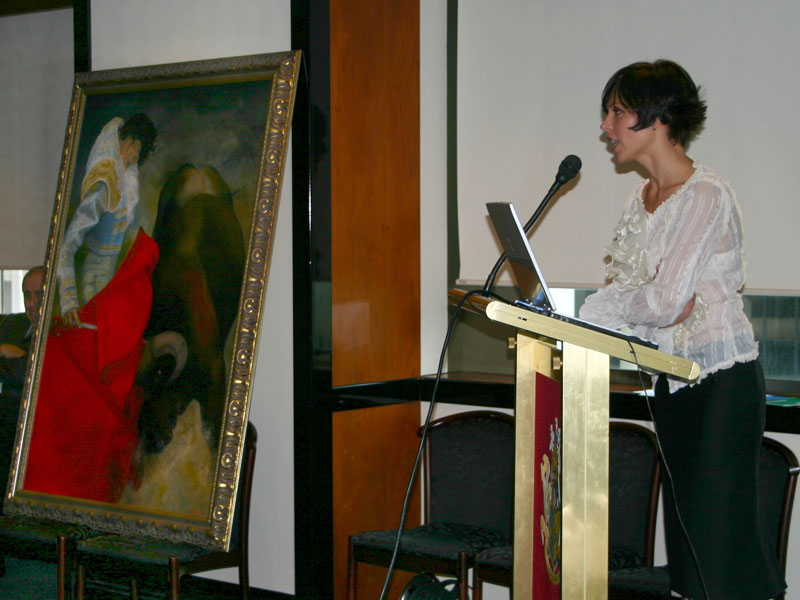 Anna presents her art in cooperation with Citibank
In addition to Anna's solo art shows in 2006 and 2008, Anna has participated in numerous collective art exhibitions in collaboration with the following:
Financial Institutions
CitiGold (CityBank) Private Wealth, Smith Barney Financial Advisors sophisticated investors.
Art Galleries
Richard Martin Art Gallery, Metro 5 Melbourne, Milton Design Centre Art Gallery, Maleny Art Gallery, Regional Art Gallery Caloundra, Miaja Gallery Singapore.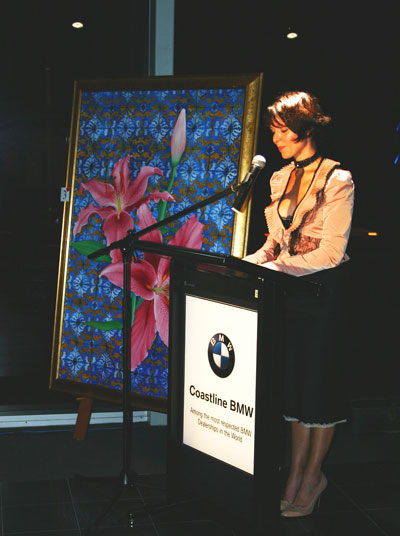 Anna's art exhibits alongside a launch by Coastline BMW
Luxury Brands
Euro Marquée Brisbane, Ferrari, BMW, Luxury Network Australia.
Art Awards
In 2011 Anna Rubin was presented The Award for her major cultural impact from the Sunshine Coast University.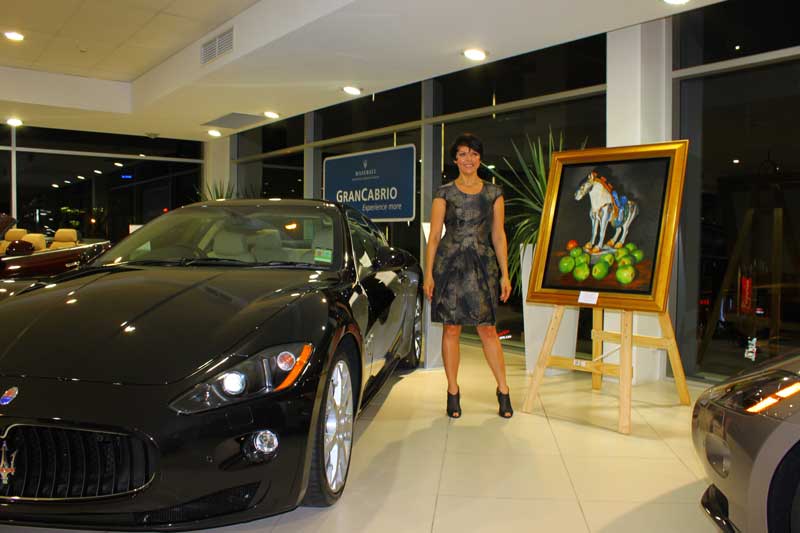 Anna's art exhibits in cooperation with Maserati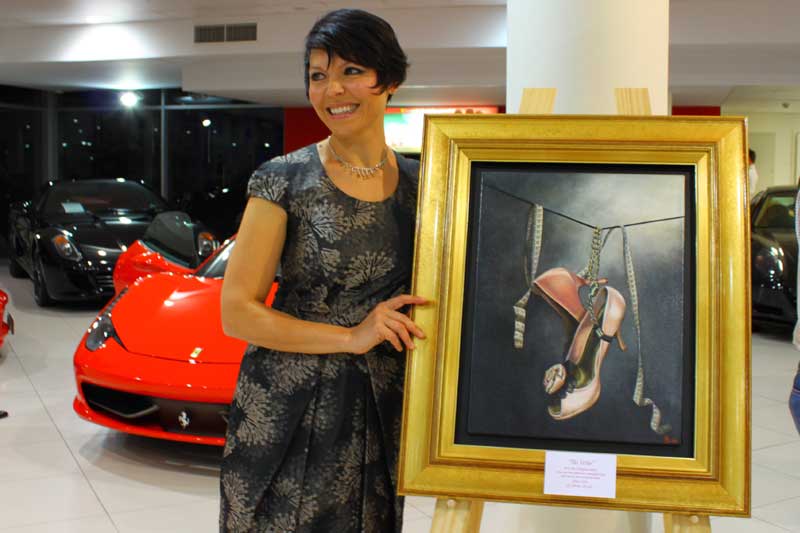 Anna features her art in cooperation with Ferrari
Retrospective Exhibition 2016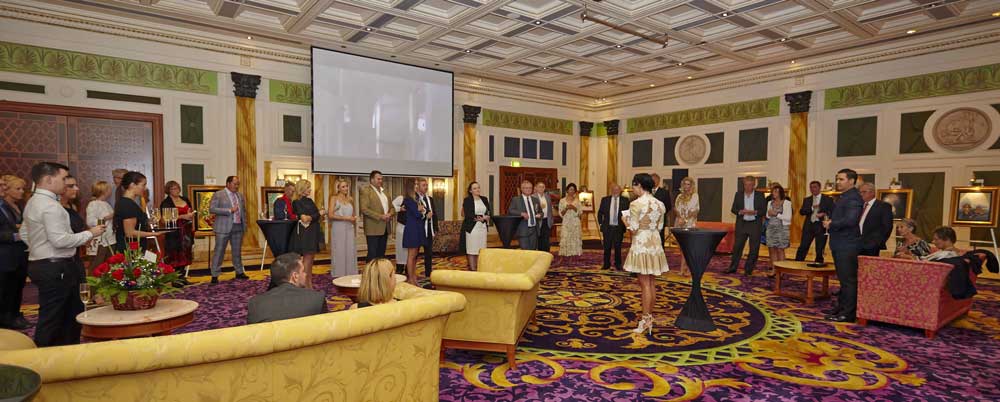 Anna opens her solo art retrospective exhibition at Palazzo Versace Hotel
Anna's third solo exhibition was held in 2016 at Palazzo Versace, Gold Coast, Australia.
This retrospective art exhibition celebrated Anna's 10 successful years as a professional Artist.
Australian and International art collectors gathered for the unforgettable celebration of Anna's achievements.
The art show demonstrated a selection of artworks from the very start of Anna's career in 2006.
Anna's latest series created in 2015-2016, "Les Objets de Beauté" was launched to demonstrate the progress in Anna Rubin's technique, skill and refined style.
"Les Objets de Beauté" was inspired by the alchemy of the Golden Ages in Art history.
Anna Rubin has created her very own "Golden Age" in her artworks that year.
She blended 16th Century Renaissance mastery with the exotic opulence of 19th Century Belle Époque to astonish all who viewed these new masterpieces.
The luxurious evening was accompanied by flowing Champagne and spiced by fragrant truffles.
The esteemed art collectors were impressed. So much so, that 80% of the paintings from the new series were sold in the few hours of the solo show.
An incredible night to remember, as it was also the day of a premier of an Award-winning documentary (in the Noosa International Short Film Festival) about Anna's journey of becoming a professional artist.
The documentary was presented to the excited art collectors and art connoisseurs at Anna's exhibition.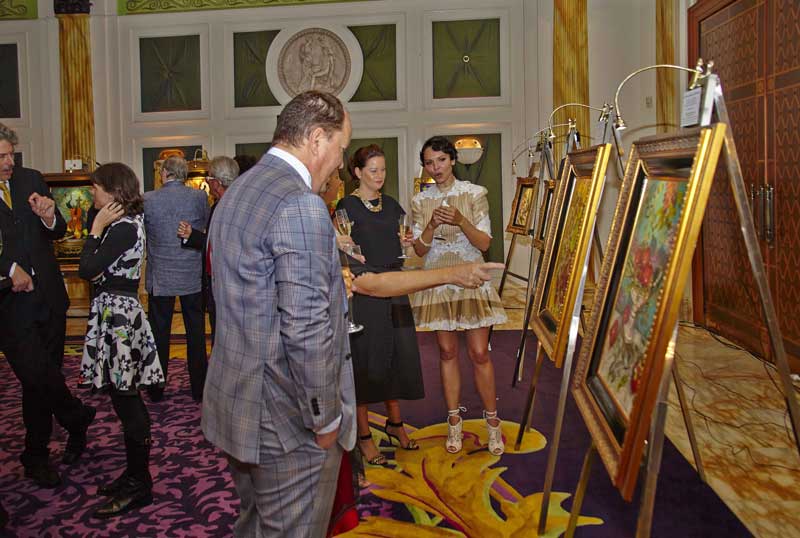 Patrons admire Anna's realism artwork
Current Artwork 2017 – 2019
After painting realism artwork in the Still-Life genre for over 10 years, Anna embarked on a new journey of painting figurative art.
In Anna's new series "Aller de l'Avant", meaning "Moving Forward", she experiments with Caravaggio's "darkness-light contrast" concept.
Anna is creating her "moving forward" subjects with hints of their personal dilemmas.
Who is taking what into the future? Wearing it, or holding it in their hands? Who is leaving what in the past, moving on to new ventures in life?
Anna is using her realism style and the methods of Old Masters Technique.
The Caravaggio's darkness of the background and the figures enigmatically disappearing into obscurity are the new elements in Anna's art from 2017 until now.
More than once, viewers of these artworks went silent and thoughtful considering their own "Aller de l'Avant".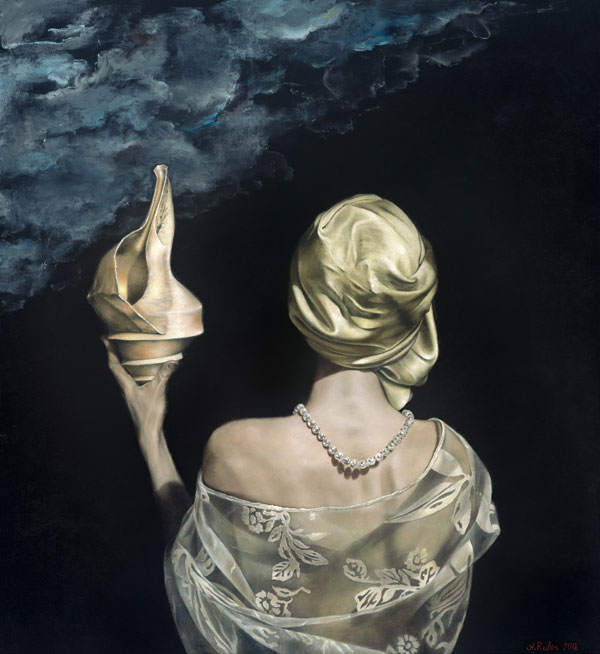 Every one of them admitted to feeling engaged and absorbed by the mystery of the new artworks in the figurative genre.
All but one of the artworks from this series have been sold to private collectors.
Anna is continuing to create new artworks and is also working on commission paintings.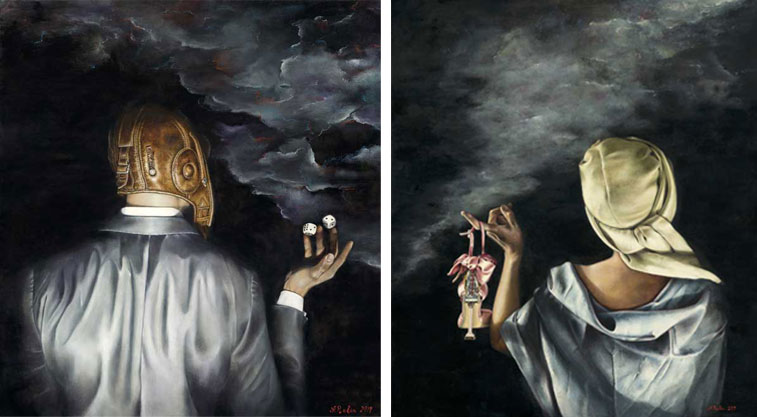 Secondary Art Market Results
Following the success of Anna Rubin's realism paintings on the primary art market, success on the secondary market proved that Anna's artwork is not only engaging, beautiful and valuable, but also a strong investment.
The debut of Anna Rubin's realism art on the secondary art market took place in June 2008, in Sydney.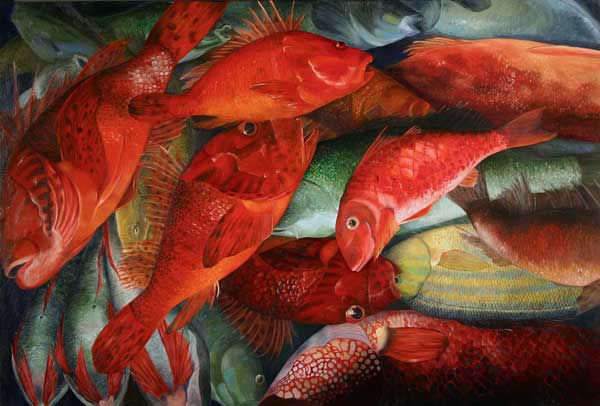 "Australian and International Art Auction" at the Deutcher and Menzies Art Auction House accepted Anna Rubin's masterpiece "Pisces from Reef" and placed it under one of the most prestigious spots (number 20) in the famous Art Auction House's catalogue."
A beautiful essay was published in the catalogue to underline the importance and promising outlook of the sale.
The acceptance of Anna Rubin's artwork in the 3rd year of her professional career as an artist into this particular Art Auction House made international art advisors and art investors curious to say the least.
"Pisces from Reef" is dated 2004 and is 1m x 1.5m.
The painting was sold for the first time in 2006 at the price of AU$38,500 (US$29,700) to a private collector in New South Wales, Australia.
It was valued by the Deutcher and Menzies Art Auction House with the highest estimate of AU$48,000 (US$39,000). (Please consider the buyer's commission of 20% coming on top of the hammer price.)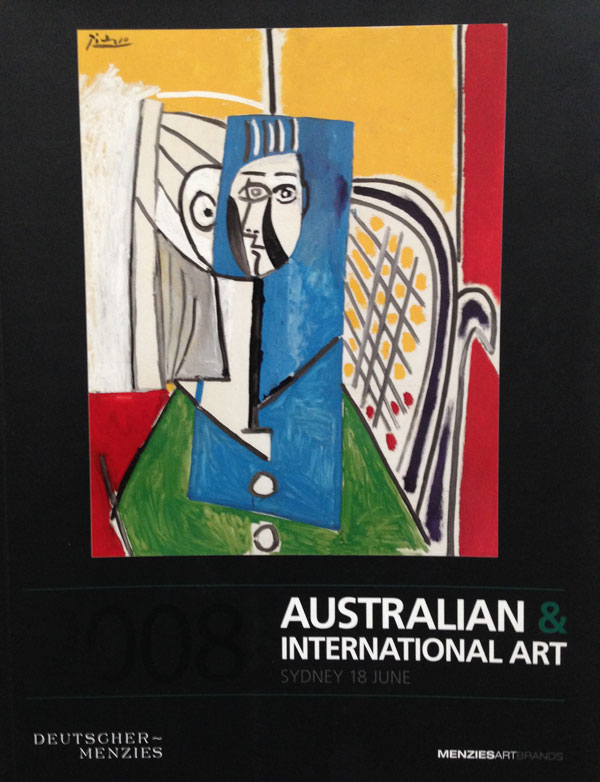 Anna's "Pisces From Reef' painting featured in Deutcher and Menzies Art Auction
Not just the proud owner of the bespoke artwork being auctioned, but all fans, friends and clients of Anna Rubin were holding their breath in joyful anticipation of the Art auction result.
Anna's artwork was consigned for the very influential and prestigious "Important Australian and International Art Auction".
One of the Picasso masterpieces and some magnificently expensive artworks by popular Australian artists were listed in this Art Auction as well.
Needless to say, Anna herself was feeling honoured, excited, humbled and scared at the same time.
It was a big moment, another pivotal point in her artistic career and life!
The anxiously awaited result came in. "Pisces from Reef" was sold at the highest price estimate of AU$57,600 (US$47,000) including buyers commission. This represents a 50% increase in value in just 2 years.
Since that day in June 2008 Anna Rubin realism artworks in Still-Life genre were sold successfully at the highest estimate in the Lawson & Menzies Art Auction House and Menzies Art Brands Auction House in Sydney and Melbourne.
It is recorded in Australian and New Zealand Art Sales Digest as well as in other numerous Art Auction Records Organisations online and in print.
To continue with the statistics of steady growth of Anna Rubin's realism art, another important sale ought to be mentioned…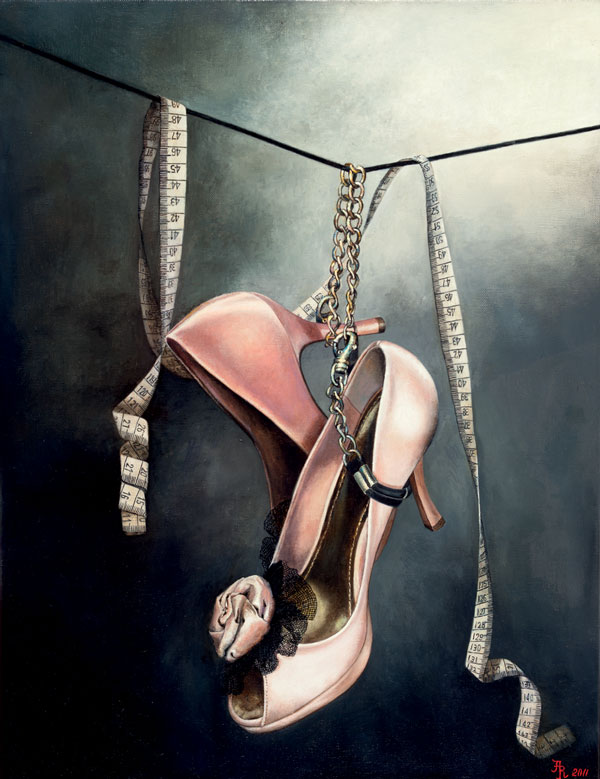 One of Anna's realism Still-Life paintings titled "Forgiveness", 50cm x 30cm was sold in 2012 by the influential Menzies Art Brands Auction House.
It was valued at AU$16,000 (US$13,000) and successfully sold for AU$19,636 (US$15,600) hammer price including Buyers commission.
This particular size 50cm x 30cm, has been used by Anna Rubin for her masterpieces frequently and continues to sell on the primary and secondary art market from 2004 until today.
Overview of Anna Rubin's Art Value Development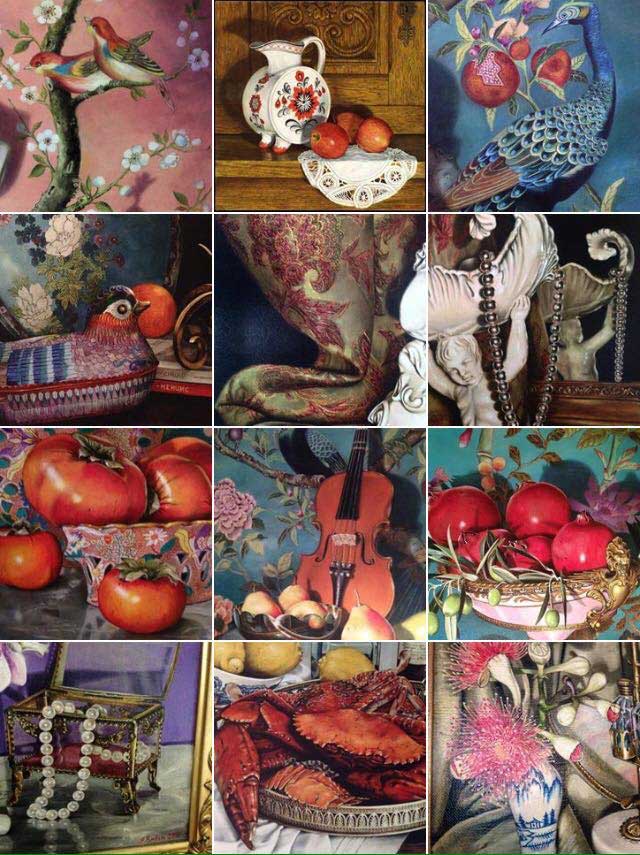 Detail of Anna Rubin's realism paintings
The following sales figures provide an outline of the solid growth in value of Anna's artworks from 2004 – 2012 in the primary and secondary art markets.
2004 –AU$4,400 (US$3,300)
2006 – AU$6,600 (US$5,000)
2008 – AU$9,900 (US$7,300)
2012 – AU$19,636 (US$15,600)
In 8 years Anna Rubin's artwork increased in value by 346%.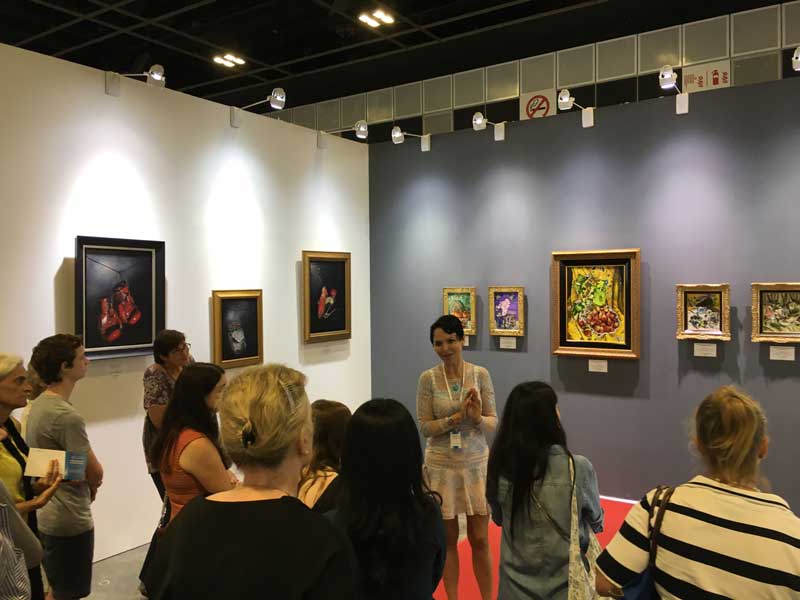 Singapore Contemporary Art Fair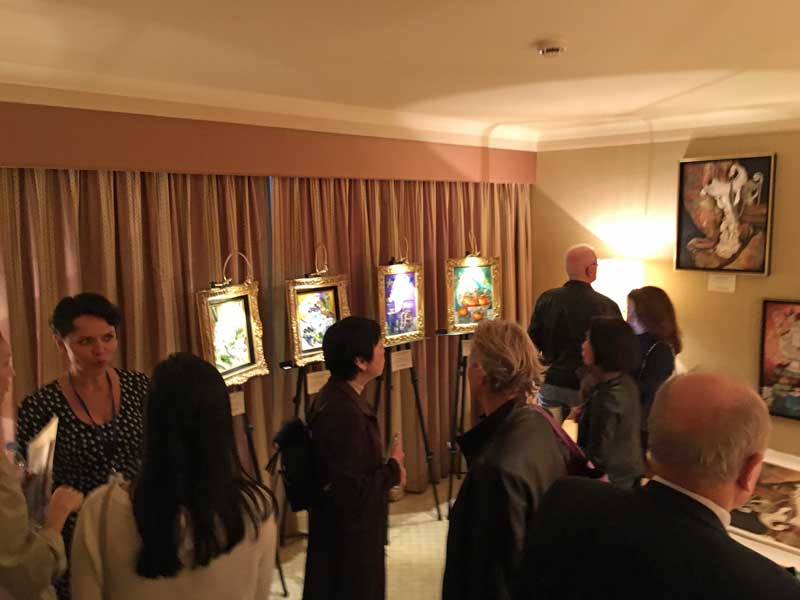 Hong Kong Asia Contemporary Art Fair
It is important to mention Anna's art debuted on the international Art Fair scene.
She was invited to participate in Art Fairs around the world including Dubai, Monaco, Moscow, Singapore and Hong Kong to name a few.
Anna's realism art was well received and highly regarded at Singapore Contemporary Art Fair in January 2017, followed shortly after by the Hong Kong Asia Contemporary Art Fair in March.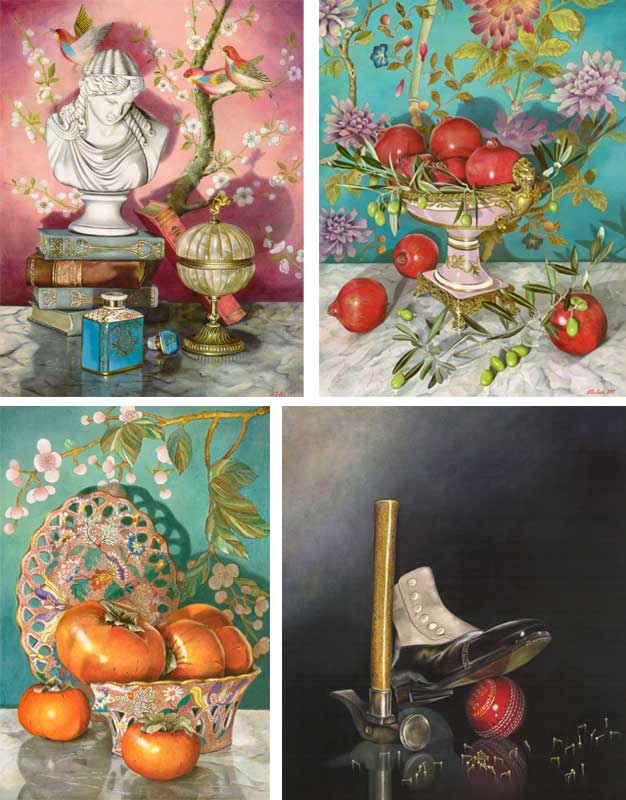 Just a few of Anna's modern masterpieces
Since the start of her artistic career in 2002 Anna Rubin has been refining her technique and style constantly.
Until today, she has created 6 collections/series, 59 modern masterpieces and counting.
Please enjoy the following selection of Anna Rubin's artwork from all her series to delight in how incredible her skill development and the finesse of her style and composition are from 2002 to today.
Sold Paintings (2005-2019) By Anna Rubin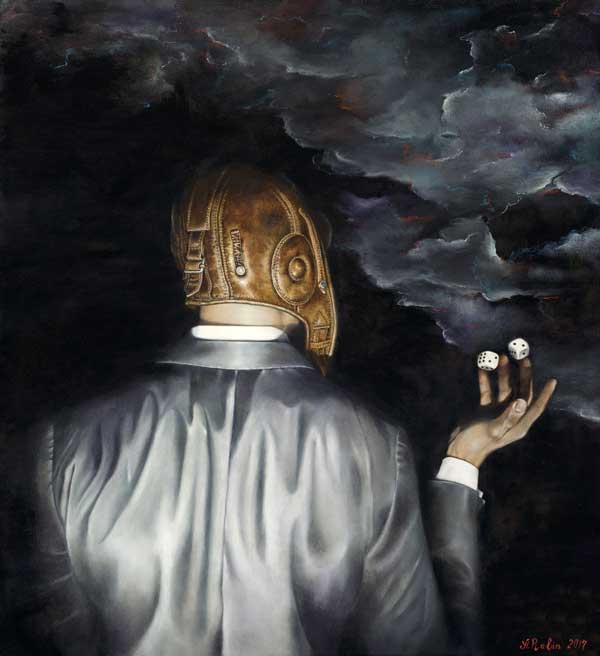 "Aller de l'Avant II"
85cm x 75cm, Oil on Belgium Linen, Black timber outer frame with gilded inner runner,
Price : AU$27,500 incl. 10% GST (US$19,700)
SOLD in 2018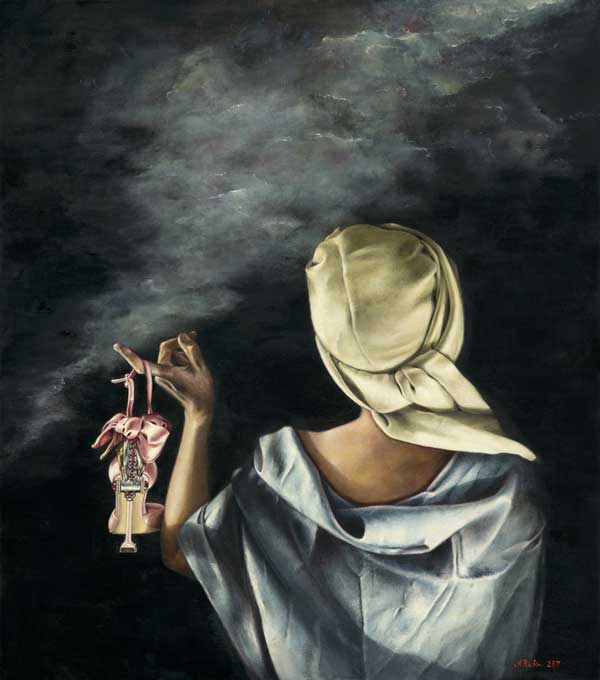 "Aller de l'Avant I"
85cm x 75cm, Oil on Belgium linen, Black timber outer frame with gilded inner runner,
Price: AU$24,200 incl. 10% GST. (US$17,350)
SOLD in 2017
"Les Objets de Beauté Encourageante"
38cm x 26cm, Oil on Belgium Linen, antique gilded frame (beginning of 19th century),
Price: AU$14,000 incl. 10% GST. (US$10,100)
SOLD in 2016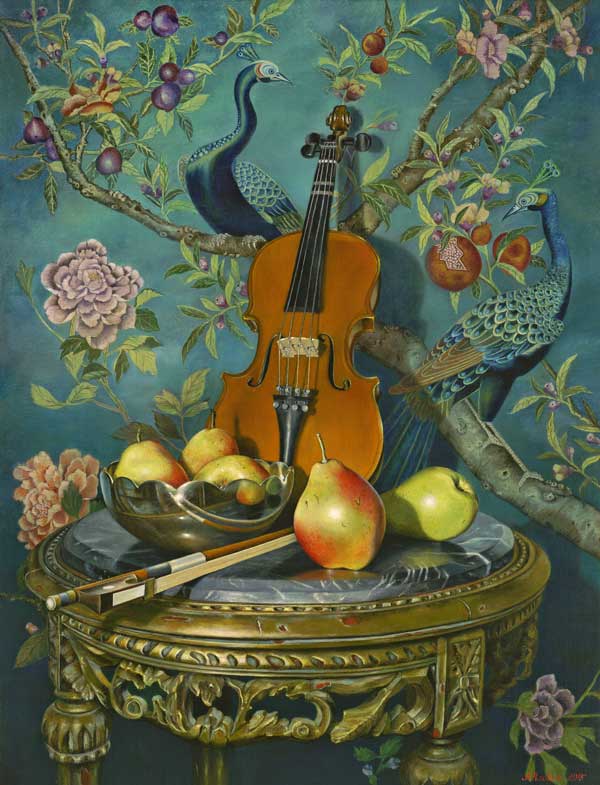 "Les Objets de Beauté la Musique"
68cm x 58cm, Oil on Belgium Linen, European gilded outer frame, China lacquer inner frame, gilded inner runner,
Price: AU$33,000 incl. 10% GST. (US$23,670)
SOLD in 2016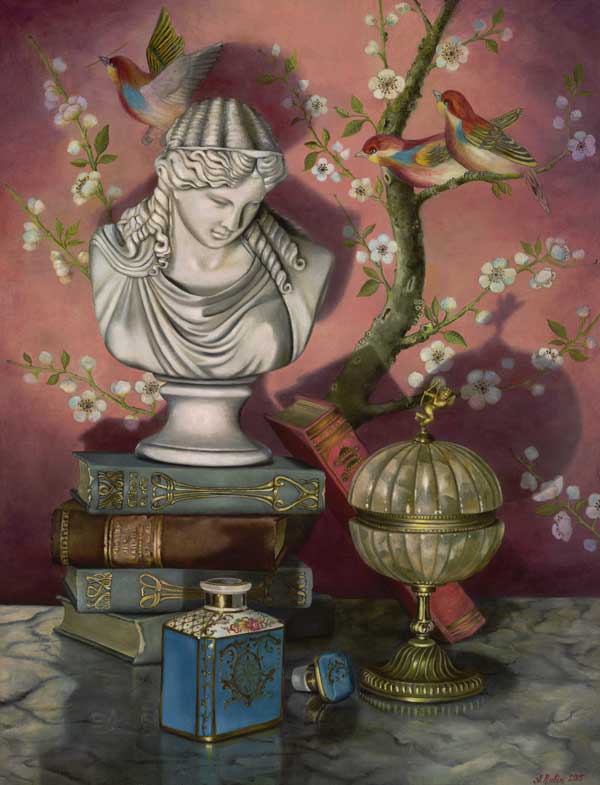 "Les Objets d'Adoration"
68cm x 58cm, Oil on Belgium Linen, European gilded outer frame, China lacquer inner frame, gilded inner runner,
Price: AU$33,000 incl. 10% GST. (US$23,670)
SOLD in 2016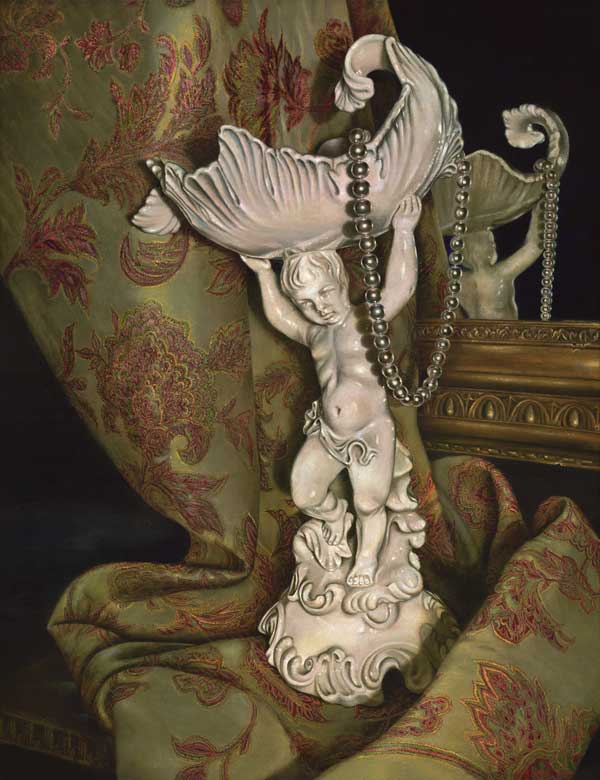 "Les Objets de Beauté"
68cm x 58cm, oïl on Belgium Linen, antique gilded outer frame, China lacquer inner frame, gilded inner runner,
Price: AU$29,700 incl.10% GST. (US$21,300)
SOLD in 2015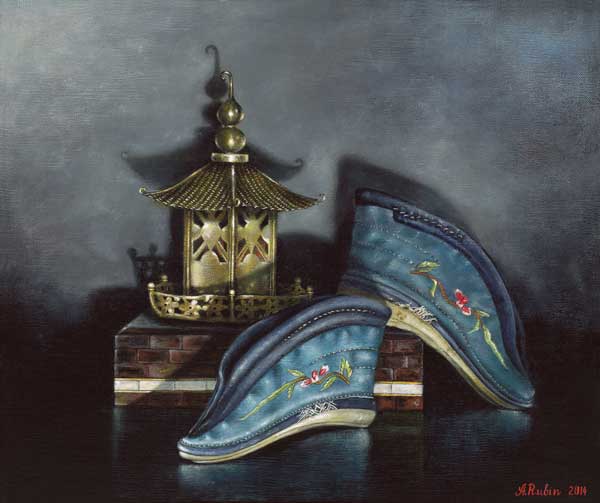 "Lotus Shoes"
34cm x 40cm, Frame: antique hand gilded frame,
Price: AU$12,100.00 incl. GST. (US$8,700)
SOLD in 2014
"Timekeepers"
Oil on Belgium Linen, 50cm x 40cm,
Frame: large hand gilded outer, hand gilded small sloped inner on black and gold float frame,
Price: AU$16,000.00 incl. GST. (US$11,570)
SOLD in 2011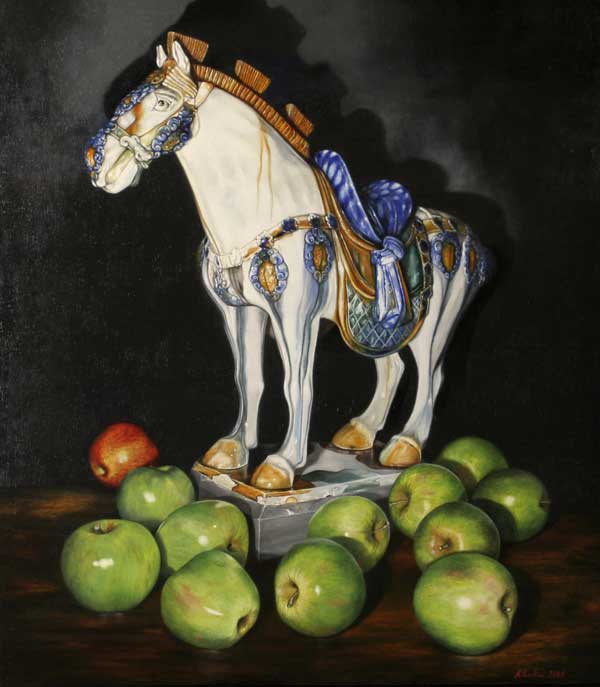 "Emperor's Desire"
Oil on Belgium Linen, 82cm x 72cm,
Frame: large hand gilded outer, hand gilded small sloped inner on black and gold float frame,
Price: AU$27,500.00 incl. GST. (US$19,700)
SOLD in 2010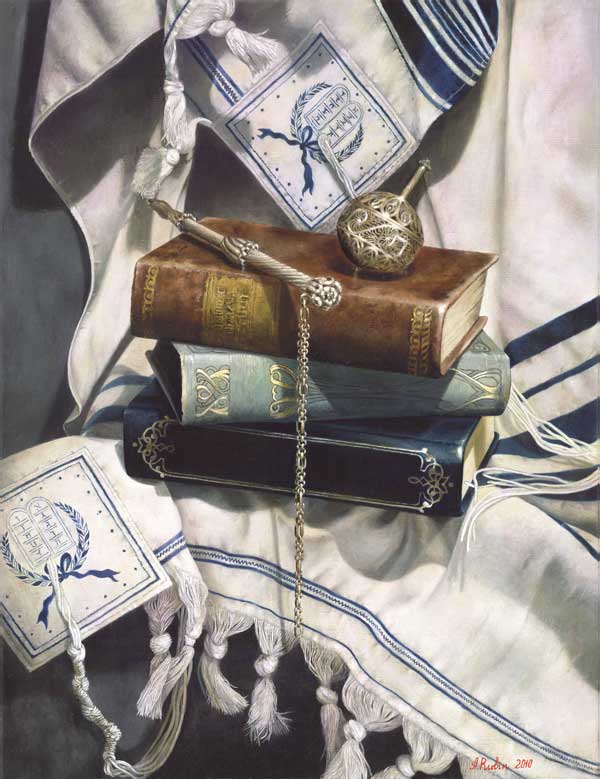 "Memories of Israel"
50cm x 40cm, Oil on Belgium Linen,
Frame: large hand gilded outer, hand gilded small sloped inner on black and gold float frame,
Price: AU$15,000.00 incl. GST. (US$10,800)
SOLD in 2009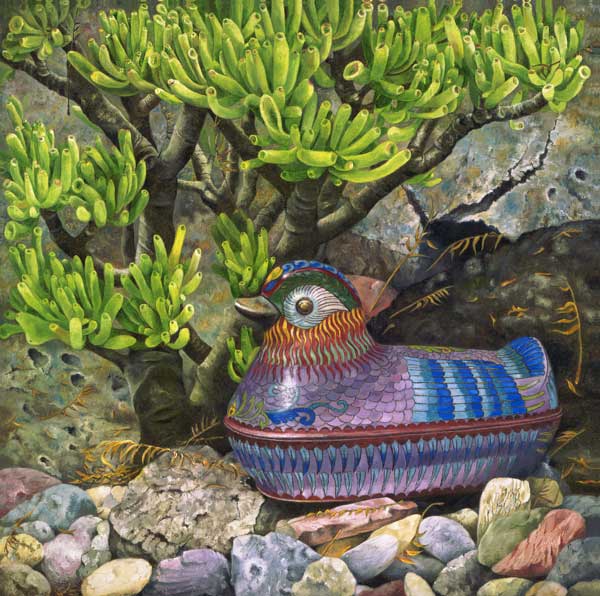 "Cloisonné Duck"
40cm x 40cm, Oil on Belgium Linen,
Frame: large hand gilded outer, hand gilded small sloped inner on black and gold float frame,
Price: AU$9,900.00 incl. GST. (US$7,300)
SOLD in 2009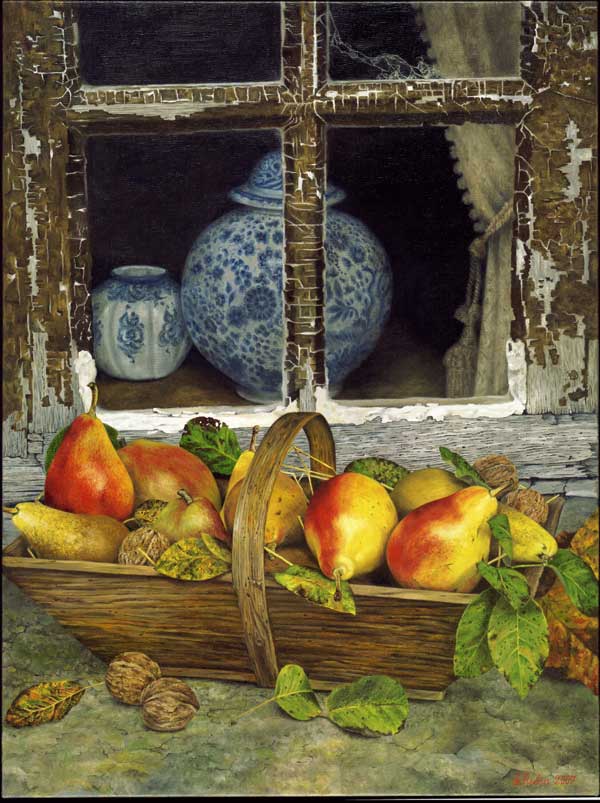 "Automne" (Autumn)
52cm x 68cm, Oil on Belgium Linen,
Frame: Large hand guilded outer, hand guilded small sloped inner on black and gold float frame.
Price:  AU$22,000  (US$16,000)
SOLD in 2009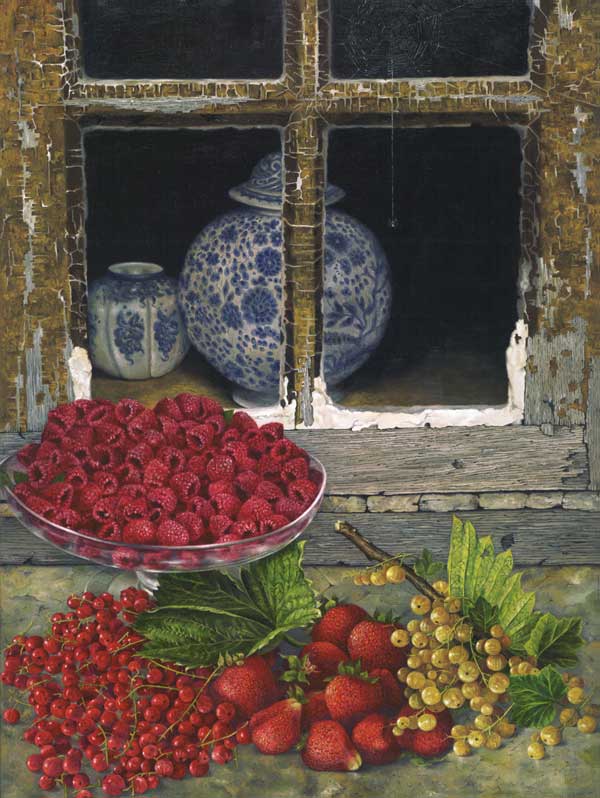 "Été" (Summer)
50cm x 70cm, Oil on Belgium Linen,
Frame: Large hand guilded outer, hand guilded small sloped inner on black and gold float frame.
Price:  AU$22,000 (US$16,000)
SOLD in 2009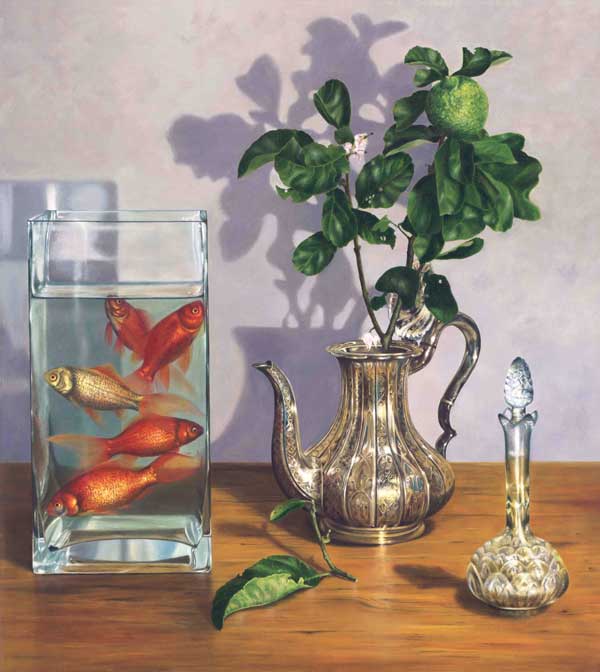 "A Visit from Goldfish"
82cm x 72cm, Oil on Belgium Linen,
Frame: Large hand guilded outer, hand guilded small sloped inner on black and gold float frame,
Price: AU$27,500.00 incl. GST. (US$19,700)
SOLD in 2008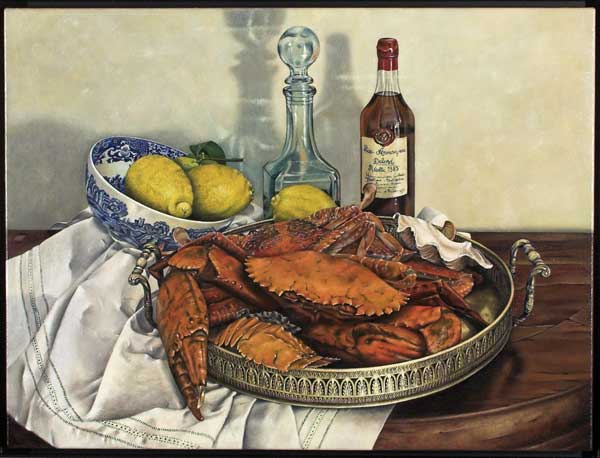 "Seafood Lunch"
52cm x 68cm, Oil on Belgium Linen,
Frame: Large hand gilded outer, hand gilded small sloped inner on black and gold float frame,
Price: AU$23,100.00 incl. GST. (US$16,700)
SOLD in 2008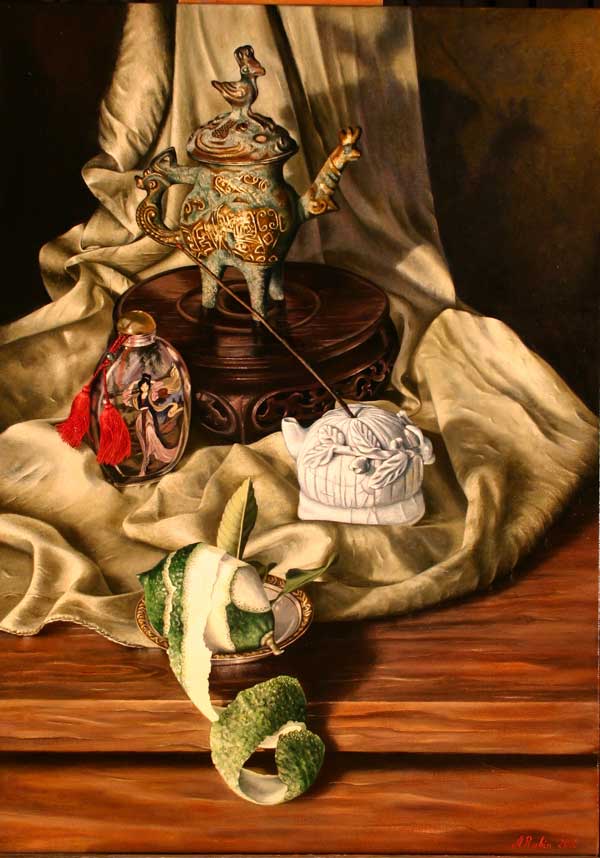 "Collection of Aromas"
50cm x 70cm; oil on Canvas;
Frame: Large hand gilded outer to sloped gilded inner to float frame;
Price AU$11,990 incl. GST. (US$8,700)
SOLD in 2007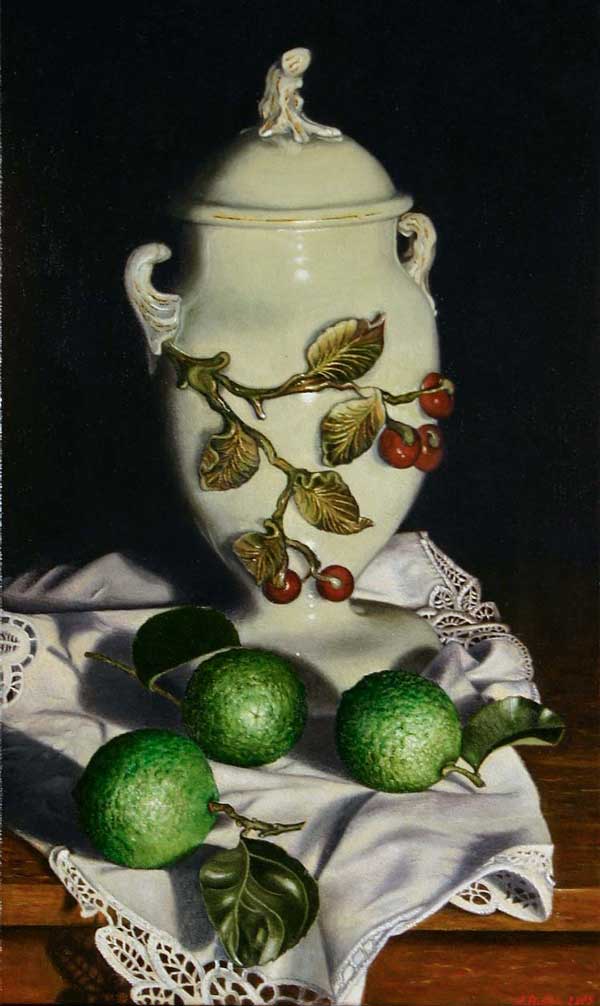 "Lemons"
50cm x 30cm; Oil on Canvas;
Frame style-Gold plated;
Price AU$7,700 incl. GST. (US$5,700)
SOLD in 2006
"Lotus Shoes"
50cm x 30cm; Oil on Canvas;
Frame: Gold plated;
Price AU$7,700 incl. GST. (US$5,700)
SOLD in 2006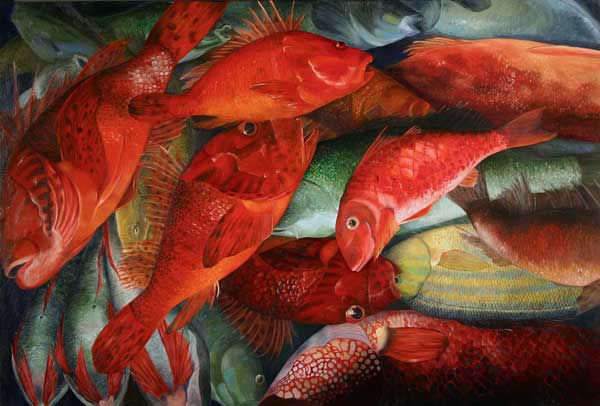 "Pisces from Reef"
1m x 1.5m; Oil on Canvas;
Frame: Gold plated, dark grey float;
Price AU$38,500 incl. GST. (US$29,700)
SOLD in 2006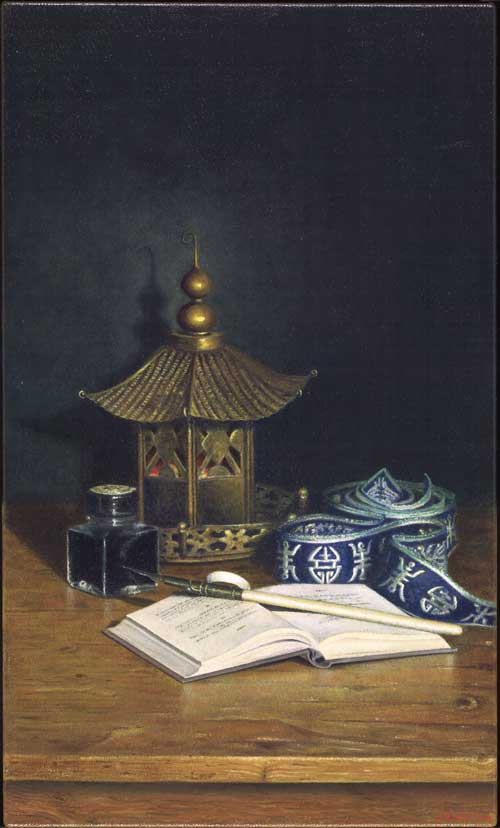 "Lantern"
Size: 50cm x 30cm;
Medium: Oil on Belgium linen; Frame: gold plated;
Price AU$4,500 incl. GST. (US$3,300)
SOLD in 2005