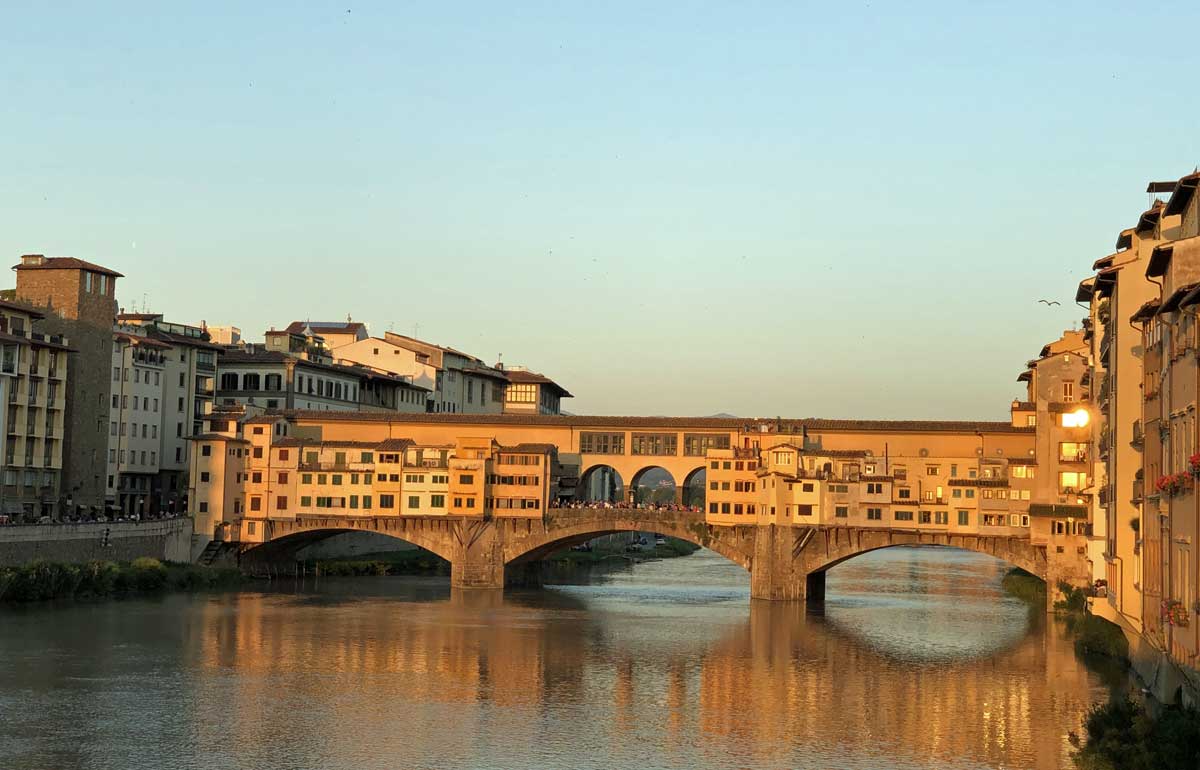 Discover Florence Art, The People And Artists That Shaped And Continue To Shape This Special City
A number of great artists were working in the Renaissance period. Of these, Florentine Renaissance painters include some of the most HIGHLY ACCLAIMED artists of all time.
Art in Florence is truly extraordinary, and this sophisticated city is a treasure trove for art lovers.
There is a special magic in finding the beautiful murals tucked away in quiet alleys, gazing at the extraordinary architecture or seeking out the Old Masters shown in Florence's prestigious art galleries and museums such as the Accademia Gallery and the Uffizi Gallery.
Florence art features many exceptional examples and works by key figures from both the early and high Renaissance periods.
Many of these famous painters were homegrown artists from Florence, and the wealth and independence of the city also attracted artists to move there from across Italy.
The city was alive with the quest for KNOWLEDGE AND BEAUTY.
And so…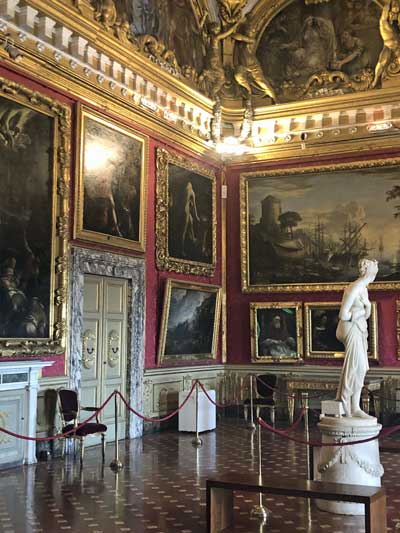 As it prospered Florence became an art subject in itself.
Aside from the classical subjects of Renaissance art, the community of artists could also draw from the beautiful Tuscan countryside, as well as and the city's fascinating people and architecture.
This captivating place is the subject for a great number of artworks, and tourists can easily find a Florence painting to take home with them as a souvenir of their trip.
They can choose from prints of Chef-d'oeuvre by Old Masters to an original by a modern Florence artist.
And it comes as no surprise that artists continue to flock to the city to the present day. In Florence or, in the Italian, Firenze painting continues to thrive.
Modern Florentine painters are part of a rich history and cultural scene. This is a city steeped in beauty and the pursuit of knowledge, where inspiration can be found around every picturesque corner.
Read on to find out more about Renaissance art in this FABULOUS Italian city.
The Renaissance And How Art Helped Shape The Modern World
Florence was the birthplace of the Renaissance and was home to an array of pivotal Renaissance figures.
Florence Italy Renaissance thinkers took the first steps to move forward from the traditions of the Middle Ages.
The Renaissance took inspiration from classical civilisations. And Florence was a city-state in central Italy – a country rich in its ancient Roman history.
The city-state was flourishing with trade and industry and offered freedom as an independent republic. Therefore, this was the ideal environment for the Renaissance to take shape.
The Renaissance was a GOLDEN AGE characterised by an unprecedented advancement of culture and society.
This period (between the 14th and 17th centuries) changed the way that people lived, thought, and looked at the world – and continues to influence our lives today.
The Medici Family: Royalty of the Renaissance
Medici family members are some of the most famous people of Florence.
POWERFUL AND WEALTHY, this family's patronage supported the work of the greatest artists of each generation and changed the way that we see the world.
The family started to gain dominance with Giovanni de' Medici (1360-1429), one of the most famous people in Florence; a wool merchant and guild member.
In 1397 he founded the Medici Bank which was to create the family's wealth, and so would enable the family's PATRONAGE of some of the greatest painters in history.
His son, Cosimo de' Medici (1389-1464), built on this power and in 1434 became Gran maestro (the unofficial head of state) of Florence. The family went on to rule the city for 200 years until 1737. They developed far-reaching influence, and the Medici family tree included four Popes and two Queens of France.
The Medici's were key supporters of the art of Renaissance Florence.
Renaissance Florence Art, Knowledge and Beauty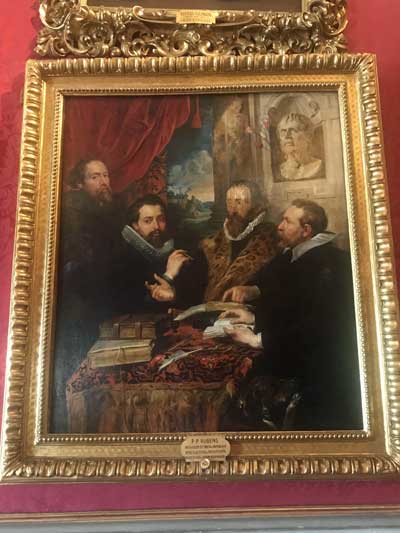 Their generous patronage changed the life of the Florentine painter, who no longer needed to chase the next commission but could instead FOCUS ON INTELLECTUAL PURSUITS.
By supporting the art companies and workshops in the city, the Medici drew huge numbers of painters to the city to work, teach and train in Florence's studios. A Florence art company was a busy and thriving place to work.
And so, an extraordinary amount of the famous art in Florence was created thanks to the Medici's support.
The Medici also supported an array of thinkers; with poets, philosophers and scientists all gathering in the city. This pursuit of knowledge made many great advancements and notably led to the DEVELOPMENT OF HUMANISM.
This philosophy originated in Florence, where Francesco Petrarch, a poet and scholar, had explored the concept.
He is widely credited as the 'Father of Humanism'.
Humanism is a philosophy which reflects on classical values and places emphasis on the value of people. It calls for cultural education and the PURSUIT OF BEAUTY, focusing on realism and emotion in art.
Medici support ensured that humanism would become a prevailing philosophy of the Renaissance, and it continues to be highly relevant to this day.
Florence Italy Artists: Shaping the Renaissance
Florence offers a vast amount of paintings, which will delight any art lover.
In Florence Michelangelo created a number of his masterpieces, and here you can view the Toni Dondo, an extremely rare round panel painting. Only three such works from his later career survive – of which only the 'Toni Dondo' is completed.
Many more of those iconic pieces on your must-see list can be seen in the city's fantastic galleries, such as the Academia Florence.
And that's because…
Florence Renaissance art started to take a whole new form.
The great artist Giotto di Bondone (c.1267-1337) is thought to be the FIRST RENAISSANCE PAINTER to experiment with realism.
This moved away from the abstraction and religious iconography of the Middle Ages and looked to a whole new range of subject matter.
Portraiture, mythology, and real-life subjects would all become key components of the art of Florence, as art became an intellectual activity rather than being simply for decoration.
And so this would pave the way for Florentine art to embrace the ideals of Humanism and become a vital component of the Renaissance.
Florence Italy Painting: Innovation in Representation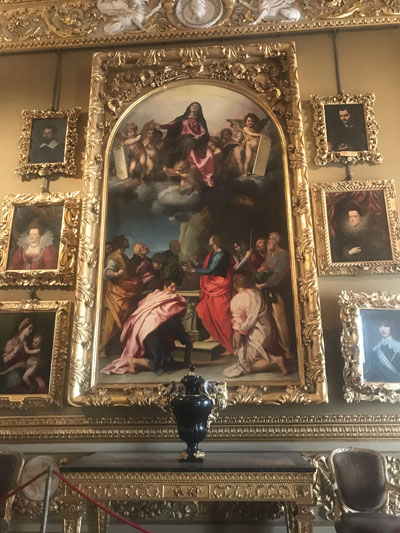 Artists working in Florence explored new methods of representation and ideals of beauty.
In the Early Renaissance, art focused on learning from the classics. Great value was placed on the art of the past, and you can see a lot of classical imagery in art from this period.
The Early Renaissance emphasised the classical belief that the pursuit of beauty and knowledge were ESSENTIAL to humanity.
Florence artwork was an expression of philosophical and scientific advances, and the High Renaissance began with the invention of perspective.
Many techniques which shape how we now view the world were developed including:
Mathematical approaches to balance and proportion
Foreshortening
The smoky blending of sfumato
Using light and dark for drama
Imagine if the historic Florentine artist could see the value that we continue to place on his or her artwork today.
Famous Florence Artists In History
Florence is widely recognised as a centre of ARTISTIC EXCELLENCE with a rich tradition and history, and the history of Florence in painting is particularly renowned.
Painters from the city are highly acclaimed and many of Florence's Renaissance painters travelled to work in Royal courts across Europe.
Indeed many of the famous people from Florence Italy are painters whose names and works are recognised all over the world.
And so, Florence people have a tradition of excellence and the city has a lofty reputation across a wide range of disciplines, Galileo's scientific advances to da Vinci's pioneering work in human anatomy.
Many of the city's painters studied a wide range of artistic disciplines, also excelled in other art forms. It includes exceptional sculpture, fresco and architecture which make the city a truly inspiring place.
Art Florence Italy: An Enduring Legacy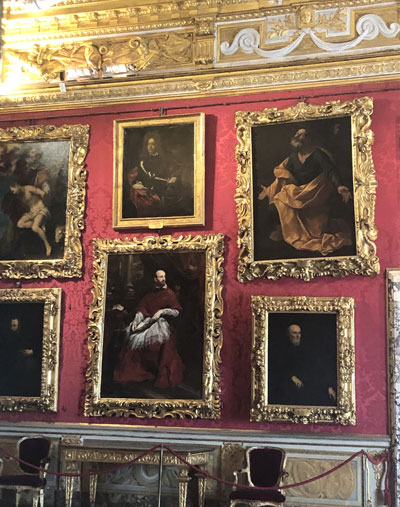 Thanks to this vast amount of art in the city, some of the WORLD'S GREATEST MUSEUMS can be found in Florence.
If you are planning to see famous paintings in Florence then you have a wide range of galleries to visit. You might choose to follow an itinerary to see works by your favourite painters or explore the city more organically stopping by those attractions that capture your imagination.
Whichever approach you choose, make sure to visit the Academia Gallery Florence.
Do make sure to check the opening hours before your visit so that your trip runs smoothly. In high season, the queues can be very long so it does pay to plan. Arriving near to opening time can be a great tactic.
It is advisable to book tickets in advance either online or through your travel agent. Do note that B-Ticket is the only official online ticketing channel.
Timed tickets are also available by calling the museum ticket office, and can be booked several months ahead for your reservation.
Once at the gallery, you can enjoy masterpieces including:
The sculptural masterpiece 'David'
The tempera painting 'Tree of Life'
The panel painting 'Coronation of the Virgin'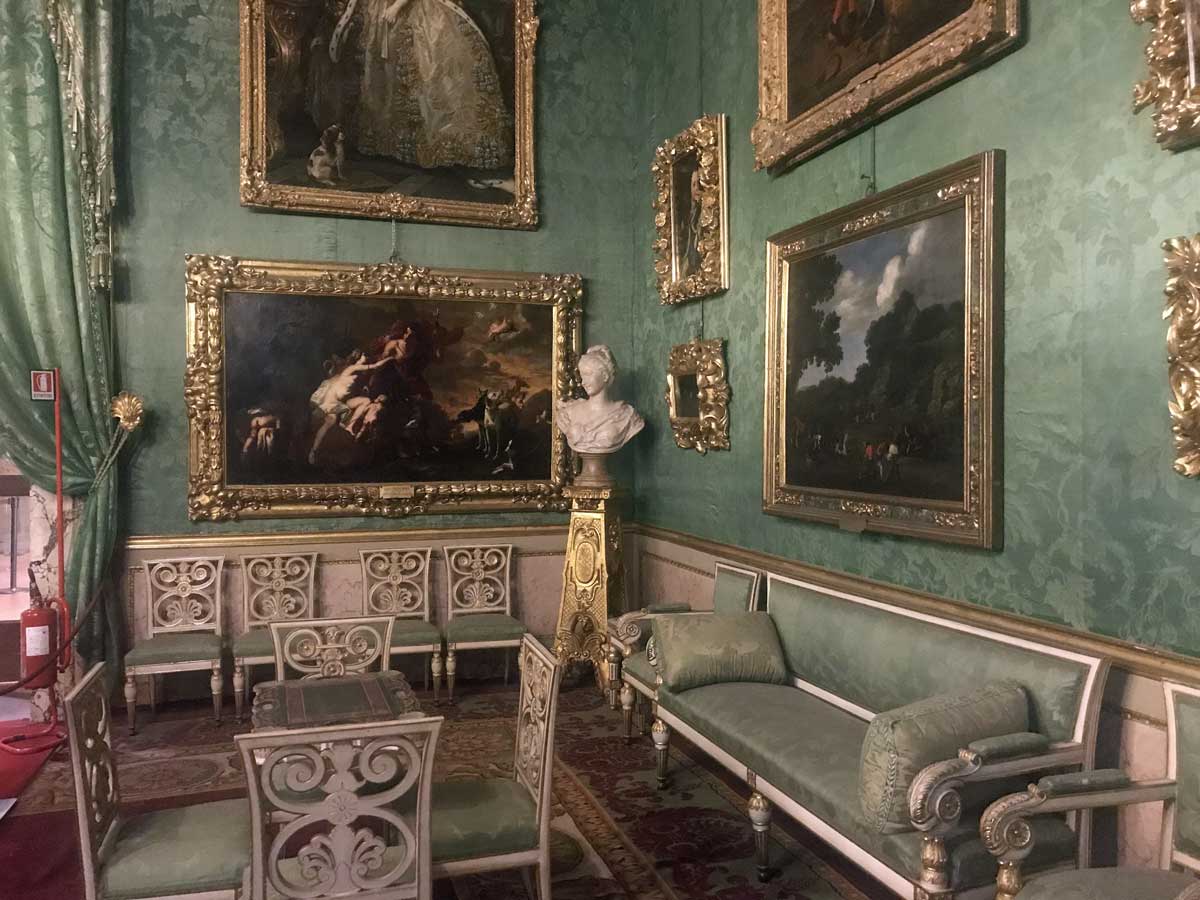 Are there ever Old Masters Florence Italy Paintings for Sale?
If you're searching for art in Florence Italy, Renaissance paintings offer some of the best known and loved art in the world, and its reputation is evident in the values that these works can reach.
Leonardo da Vinci, one of the most famous people in Renaissance period Italy, painted the 'Mona Lisa' in Florence.
Arguably the MOST FAMOUS painting in the world, the 'Mona Lisa' is also considered to be the most valuable oil painting of all time, based on its museum insurance value.
And also…
Leonardo da Vinci painted the MOST EXPENSIVE painting that has been sold in the world, the 'Salvator Mundi'.
This painting was sold in 2017 for over $430 million and is the only Leonardo da Vinci painting in private ownership.
It is very unusual for Renaissance paintings to become available for sale, they are incredibly rare and they are mostly held in public museums.
Florence Artist Oil Painting Mastery
Many of the most famous examples of Florentine painting were no doubt created by Renaissance painters.
During the Renaissance, the spheres of art and science overlapped and artists were able to make use of new technologies. These ARTISTIC INNOVATIONS made colours brighter, paintings last longer and new paintings techniques possible.
The adoption of oil painting made much of this possible. Painting in oils was widely adopted in Florence during the Renaissance.
This replaced the earlier tempura and fresco techniques, which dried quickly and had unreliable colours.
And that's why…
With this new material, an oil painting by artist Florence scenes could be brighter, more saturated, and could use the Renaissance's new techniques such as sfumato and chiaroscuro.
The Florence painter had a whole new world of creative opportunity available to them, and Renaissance painters became some of the most widely known Florence famous people.
Read on to find out more about some of Florence's MOST FAMOUS ARTISTS…
Michelangelo
Michelangelo (1475 – 1564), was born in the Republic of Florence and took his apprenticeship in the city. He returned to work in Florence throughout his career and was supported by the Medici statesman Lorenzo the Magnificent.
His most famous paintings are considered to be two frescoes in the Sistine Chapel, Rome. The Dante's Inferno painting Michelangelo made secondly in the Chapel (some 25 years after his earlier work), 'The Last Judgement', would garner much controversy for its unusual location, groundbreaking composition and extraordinary depiction of emotion.
His works made in Florence include 'The Battle of Cascina' and his spectacular 'Toni Dondo', as well as his SCULPTURAL MASTERPIECE 'David'.
Leonardo da Vinci
Leonardo da Vinci (1452 – 1519) was one of the Renaissance's most famous people in Florence Italy.
He moved from nearby Vinci to Florence to train as an artist, and as his fame grew Leonardo travelled extensively for increasingly prestigious commissions.
However, in painting Florence, he had honed his skill and many of his landscapes evoke the Tuscan landscape.
Early works painted while he was in Florence include the extraordinary and beloved 'MONA LISA', 'The Annunciation', and 'The Virgin and Child with Saint Anne'.
Raphael
Raphaello Santi (1483 – 1520), known as Raphael, moved to Florence as he had been inspired by the many famous painters who were also working there.
He is particularly renowned for his ability to capture an emotion and cultivated a calm yet bold style which attracted the attention of the general public. He was recognised as one of the leading artists in Florence and awarded Medici patronage by Pope Leo X.
In Florence, he painted a series of exceptional Madonnas which used strong compositions and made excellent use of the Florentine renaissance artists innovations in painting technique.
Key works include 'The Madonna of the Goldfinch', 'The Madonna del Prato' and 'The Esterházy Madonna'.
Donatello
Donato di Niccolò di Betto Bardi (c.?1386 –1466), or Donatello as he is better known, was born in Florence and worked under the patronage of Cosimo de' Medici.
His most famous work is his sculpture in bronze, 'David', which led the way in Renaissance sculpture.
However, he also developed a new art form called 'rilievo schiacciato', a type of very shallow relief which uses painterly approaches to composition and space.
Many of these reliefs were produced for architectural projects, and his sculpture can also be seen as part of architectural schemes in the city. This is an artist Florence has been shaped by.
'St Mark' was commissioned for the exterior of a church in the city (a copy has now been installed in the original location, while the original is now shown in the church museum), Prophet Habakkuk' was made for the bell tower of the cathedral, and 'Judith and Holofernes' was commissioned for one of Florence's picturesque piazzas.
And so, this means that his work was part of the very fabric of the city, and is considered to be some of the best-loved art of Florence Italy.
Botticelli
Sandro Botticelli (c. 1445 – 1510) was born in Florence and trained in the most respected studio of Filippo Lippi.
He lived in the same area his whole life (apart from brief trips away for work). His Florence art studio was in the family house, and his workshop developed a reputation for their Madonna and Child paintings.
And so it was here that Botticelli made his most famous work, 'The Birth of Venus', a glorious image and sophisticated homage to the reign of his patron, Lorenzo the Magnificent. It took 9 years for this painting to be completed.
This beautiful painting and his other masterpiece 'Primavera' can still both be seen in Florence, in the Uffizi Gallery.
Vasari
Giorgio Vasari (1511 – 1574) was born in Arezzo, and while he took his early training in Arezzo like many Tuscany artists was sent to Florence for his training.
And so, for Vasari Florence would provide a broad training and a career supported by the Medici. He had a rich array of interests and worked as a painter, architect and historian. He is credited as the first art historian and the first to use the term 'Renaissance' in his legendary book "Lives of the Most Excellent Painters, Sculptors and Architects".
Many of his wall and ceiling paintings can still be seen adorning prestigious buildings in Florence, Rome and Naples.
Masaccio
Tommaso di Giovanni di Simone Cassai (1401 – 1428) was born near Florence and would become known as Masaccio, the first great early Renaissance Italian painter and a key name to note in this list of Florentine Painters.
He was a trailblazer in the use of linear perspective and foreshortening. Masaccio lived to just 26, and one can only imagine what he might have achieved had he enjoyed a longer life.
If you would like to see paintings by Masaccio Florence is an ideal place to visit. Two of his finest masterpieces, his 'Holy Trinity' and 'Rendering of the Tribute Money' can be found in places of worship in the city; Santa Maria Novella Chirch and Broncacci Chapel in the basilica of Santa Maria del Carmine.
Caravaggio
Caravaggio (1571 – 1610) is one of the most famous Renaissance painters, and his dramatic works, the epitome of the Renaissance's exploration of light and dark (chiaroscuro), are still fresh and alluring to this day.
While it is believed that Caravaggio never actually visited Florence, his work was pivotal to the city's art which is evident in the amount of Caravaggio paintings in Florence – a greater assembly of his artworks than anywhere else in the world.
Want to know more about the works you can see by Caravaggio in Florence?
Be sure to view some of the master of chiaroscuro's famous works, 'Medusa', 'Bacchus', and 'Sleeping Cupid'.
Giotto
Giotto di Bondone (c.1267 – 1337) was a late middle ages artist and the first painter Florence had seen break away from the conventions of the era.
Art in the middle ages was characterised by abstraction, but instead, Giotto began to draw realistically from life.
This approach founded the Florentine School and would set the scene for Renaissance art.
While many frescoes in Italy are believed to be painted by Giotto, there is little evidence to support many of these claims.
However, two works in Florence are proven to be his – including his masterpiece the 'Arena Chapel' frescoes.
Why did artists flourish in Florence?
There were two key characteristics about Florence Italy which allowed artists to flourish.
The wealth of the city provided artists with patronage so that they could work free of financial constraints, and the vibrant, large community of Florence painters created a stimulating environment for the development of ideas.
Which artists lived in Florence during the Renaissance?
A vast number of artists lived in Florence during the Renaissance.
Artists working in the city included Early Renaissance painters Fra Angelico and Masaccio, High Renaissance artists from Florence Italy Michelangelo and Da Vinci, and Late Renaissance painters Pontormo, Bronzino and Parmigianino.
Who were the 4 main Renaissance artists?
Florence Italy Renaissance art was truly exceptional, and the city was home to the 4 main Renaissance artists: Leonardo da Vinci, Michelangelo, Raphael and Donatello.
Who is the most famous Italian artist?
Leonardo da Vinci is widely believed to be the most famous Italian artist and the greatest artist in history.
Modern Day Florence Painters
Modern day Florence Artist Anna Rubin is a humanist-artist, painting using principals of old masters techniques in her own Avant-Garde-Realism style.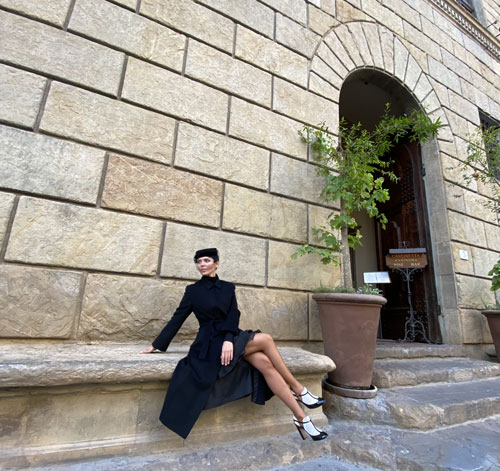 A reflection of her personality and life experiences in Russia, Germany, France and Australia, her artistic aspiration continues the traditions of Fine Art to glorify beauty and knowledge.
Art in Florence Italy was pivotal to the development of the Renaissance and has deeply changed the way in that we see the world to this day.
Of all Florentine artists Renaissance period painters were some of the most ground-breaking thinkers of all time.
Famous people from Florence, such as Giotto, Masaccio and Leonardo da Vinci, changed how images and paintings were created by establishing new techniques such as perspective, life-like drawing and foreshortening.
If you wish to experience exceptional art, the paintings of Florence Italy are sure to inspire and amaze you.
Many works by the Old Masters can be seen in the city, and fabulous paintings by artists today continue to be inspired by this rich tradition.